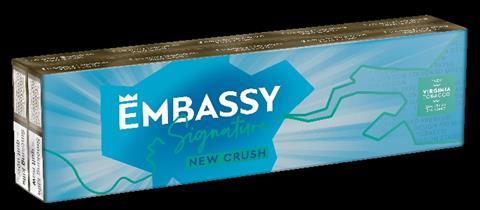 Imperial Tobacco has launched New Crush, an addition to its Embassy Signature range designed specifically for former crushball smokers looking for premium nicotine solutions at a competitive price.
New Crush comprises a blend of Virginia tobaccos wrapped in premium paper with a cooling sensation filter.
According to Imperial Tobacco, when coupled with flavour cards, such as Rizla Flavour Infusions, New Crush provides one of the closest menthol alternatives available on the market.
New Crush will be available to buy from the end of March in Superkings with an MRRP of £9.50 for a pack of 20 and an MRRP of £47.50 for a pack of 100.
Chris Street, market manager UK at Imperial Tobacco, commented: "The Embassy brand has enjoyed consistent growth over the last 12 months, with its share value climbing in the independent trade. We're confident the launch of New Crush will help drive sales in the months to come as Embassy Signature grows its appeal even further with this latest launch.
"Embassy Signature New Crush follows in the footsteps of our Players and L&B Blue New Crush variants launched earlier this year. Both New Crush launches have substantially exceeded distribution targets, highlighting the great sales opportunities available through this continually growing sub-economy sector."
Imperial will be running a national ambassador programme to support the launch with visits to 481 outlets each month in more than 30 cities across the UK and Northern Ireland.