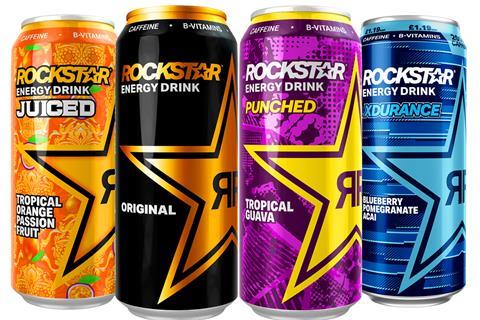 The energy drink brand Rockstar is undergoing a relaunch this May, with a new pack design, reformulation of its original flavour and a multipack to capitalise on the increasing demand for take-home formats.
The refresh of Rockstar, which was acquired by PepsiCo last year and is now distributed via Britvic in the UK, aims to recruit new shoppers into the energy drinks market by making the brand more accessible to a wider audience through a bold and more premium design. The activity will be supported with digital, in-store and out-of-home activations.
Rockstar is also reformulating its Original flavour to further improve taste and will include the additional benefit of Vitamin C. The brand's pack redesign will include a bolder logo and sport a more premium design with strong flavour messaging, positioning it as the 'go-to' energy drink at a time when stimulants account for 78% of the total soft drinks value growth in the last three years.
Phil Sanders, out-of-home commercial director at Britvic, commented: "The impactful new look includes our price-marked-pack cans, which are essential for convenience retailers as they allow stores to offer value to their customers. We have also seen more people doing their main shop at their local convenience store, so the take-home four-pack offer will allow shoppers to purchase Rockstar for drinking later too."
The entire range will be available in a 500ml format, with Rockstar Original also being available in the take-home four-pack. The relaunch will be supported from 14 June via the brand's new international platform 'Life is your stage', which will include a digital campaign, in-store, out-of-home, and digital points of sale.