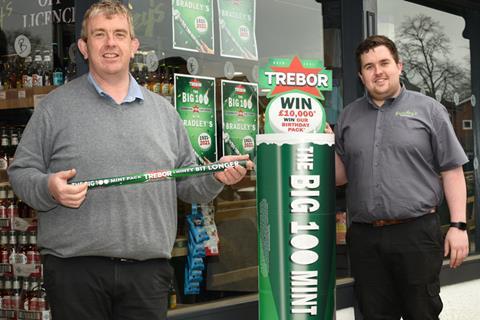 Mint brand Trebor is marking 100 years on sale this year with a new promotion called the Big 100.
The campaign will give shoppers the chance to win a range of prizes up to £10,000 – including daily £100 giveaways – through off-pack activity.
The winners of the £100 prize each day will also win limited-edition, Big 100 packs of Trebor Extra Strong Mints.
To get involved, retailers display the bespoke Big 100 POS in store alongside their mints and gums range to encourage shoppers to enter. The Big 100 promotion is also supported by an ATL campaign to engage consumers and encourage entries.
Alistair Scrimgeour, brand manager for Trebor at Mondelēz International, said: "Trebor has been at the core of the mints category for 100 years – so we're celebrating our big birthday with our customers and their shoppers.
"Through our Big 100 campaign we're rewarding consumers with a whole range of prizes – from fun extra-long Trebor Big 100 packs through to a BIG prize of £10,000 cash up for grabs. Retailers should stock up their fixture with the range and display our Big 100 POS to get involved and grow their category sales."