Jac Roper looks at problems with a freezer; a very stressful dispute with Scottish Power; and an April 'shower' of new regulations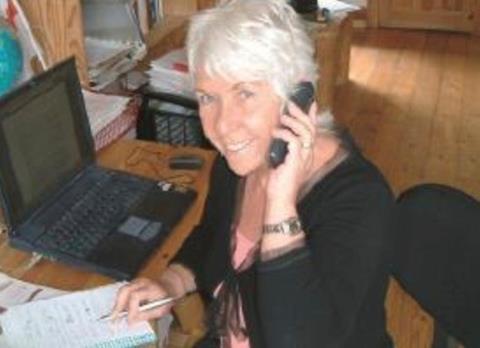 I got a call to the helpline from Jagdish Radia, who runs Leaway Service Station in Birmingham, regarding his freezer from Caterquip.
He had bought a refurbished single door Artik freezer from the company but complained that, following a delay in delivery, the freezer was not only damaged on one side but also the door kept icing up just like the old freezer he had replaced. He sent me pictures to back this up. The condition that the freezer was in was obviously not helping sales (in some of the images you could hardly see through the doors). He was also worried that his three months' warranty would run out before this was resolved. And he was going to be out of the country for six weeks leaving his daughter to run the business in his absence.
I got the following reply from Caterquip: "As far as I know we were going to arrange collection and work shop repair, would that be ok?"
To which Jagdish responded: "Where am I going to put my frozen food that is there as I have no other freezer. Have you any new freezer that I can buy in exchange?"
There was a bit more to-ing and fro-ing but pleased to report that in the end it got sorted and Jagdish reported back from India that the replacement was working fine.
Heaping abuse upon abuse
Back in February I reported (under the headline 'A distinct abuse of power') on the very unpleasant experience Tom Dant was having with Scottish Power. Tom is MD of Gill Marsh Forecourts/TAG Retail in Lincolnshire. Essentially one of their stores, acquired the previous June, left them on a contract with a rate of £1.02 as opposed to 54p per unit because it took Scottish Power nearly three months to complete the change of name.
It left them with a debt of £62,000, three times higher than it should have been. Scottish Power was also blocking any attempt to move to a different supplier.
I got in touch with the company and they said they had now processed the switch in energy supplier and were considering some reduction in his bill.
But by Christmas Tom was still getting chased by debt collectors and last month he sent me an update.
"Somebody eventually rang me back around four weeks later and asked when I was going to pay the balance. I explained again the situation and the woman seemed to understand and even said that meant that you had to sign on a much higher rate when you did sign! She had to get authorisation to get a further discount approved and was going to ring me back the next day which she didn't!"
He then got another phone call from Scottish Power asking when the balance was going to be paid. "I again explained the situation and they said that the complaint has been closed due to the lack of response from me! They said they sent an email on the 11th of January regarding the complaint and that as I hadn't responded within seven days they had automatically closed it. After a bit of digging, they finally told me that they had sent the email to the MP Lia Nicci. I said well how was I able to respond and their response was that was where the complaint originated. He put me on hold and then came back and said as a gesture of good will they will let me split the bill over six months with a 25% payment upfront of £17,800.83 and the six monthly payments of £8,930. (The discount they initially offered seems to have disappeared!) He also said I had seven working days to accept the offer. I mentioned that I am not querying the amount of units used but the rate per unit and he then put me on hold and subsequently hung up!"
Tom worked out that, if they had signed a contract in the early part of the year, they would have been paying around 35p per unit for the contracted period.
"We signed with a different supplier at 70.3p per unit. This means that the cost to us for their incompetence over a 12 month contract is £48,714.00!! Add this to the overcharged amount and Scottish power have cost us £108,200!!"
That is a helluva lot of money and a helluva lot of stress.
All I could suggest to Tom was to try to negotiate. Make them an offer of what he believes he owes.
April: a shower of new regs
Ah, April… sunshine and a whole shower of new regulations in employment. According to the Employment Law Advice Bureau it isn't just the living/minimum wage that goes up this month. Statutory payment rates also go up, as follows:
Statutory Sick Pay (SSP) £109.40 per week.
Statutory Maternity Pay, Statutory Adoption Pay, Statutory Paternity Pay (SPP), Statutory Shared Parental Pay (ShPP) and Statutory Parental Bereavement Pay (SPBP) £172.48 per week.
The lower earnings limit – the amount someone must earn to be entitled to these payments – will remain at £123 per week.
And the Employment Rights (Increase of Limits) Order 2023 has been published, which includes the regular annual increase in tribunal limits.
Week's Pay: The maximum amount of a 'week's pay' used to calculate statutory redundancy pay and the basic award for unfair dismissal claims will increase from £571 to £643. This means that if an employee is made redundant, their statutory redundancy pay will be calculated using a 'week's pay' of up to £643.
You can email your queries, news and views to Jac@roper-biz.co.uk or call 0208 8502 9775