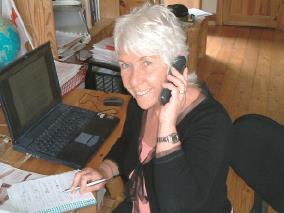 Why is it that people get sniffy about the quality of food available at forecourts? And their flower arrangements? There still seems to be plenty of prejudice around.
Not long ago I watched a programme on BBC 2 called Remarkable Places To Eat where Fred Sirieix went to Marrakech with the chef Andi Oliver. Sirieix is a French maître d'hôtel turned TV celeb. He apparently has three Michelin stars. What the two sampled in Marrakech was duly dubbed the "best chicken tagines in Morocco".
But what got me was that it was repeatedly pointed out that the restaurant was on the site of a petrol station. Shock horror! Dry sandwiches got a mention as did poor flower selections. It was a bit of a running joke throughout the hour-long programme. Do you think this is still a fair assumption? Was it ever fair? No one says that about stand-alone convenience stores. Do you think it's the association of two very different types of 'fuel' from the same premises and why do your flowers come in for stick?
Well, Fred has clearly never been to Abridge in Essex to witness the offering at Goran Raven's Budgens. I spoke to manager Keith Sharp. He said: "We do fresh bakery, nice sandwiches, meat which we get from local butchers, goods from local bakers, hand-made cakes…not that generic dry sandwich…an offering that's fresh.
"A gentleman at the till has just bought a pack of Just Rolls, knotted seedy rolls made locally. We sell 250 packs of Just Rolls 4-packs every day. All made locally."
They also sell fresh pies and sausages. "The Abridge banger is made just for us." (And it's probably the best banger in all of Abridge.)
Sharp said he had also just contacted a local fruit farmer and fresh strawberries and raspberries would become available come May and before that, the asparagus in April.
Flowers too come from a local supplier with a specialist florist on hand for special occasions like Valentine's Day and Mother's Day.
Abridge Budgens is Shell-badged which reminds me that, at more than 450 Shell service stations, the Jamie Oliver Deli by Shell range is available claiming to offer Britain's drivers healthier options on-the-go.
The range features over 30 products from classic sandwiches and wraps to salads and healthy snacks. The partnership says it focuses on delicious, nutritious food: "We significantly reduced the fat and salt content across the range, introduced higher-welfare ingredients including free-range eggs, and added best-in-class nutritional labelling so people know exactly what's in every product."
I recognise that every forecourt is different and that Goren Raven's offering is a cut above most but still I think Sirieix' cheap jibes were unwarranted.
The bank is offering good advice on fraud
HSBC sent me the following which I think is worth passing on. It says businesses are often targeted because fraudsters know payments are regularly made, sometimes for sizeable amounts.
One of the most common types of business fraud is business email compromise which is where either your email account is hacked or a very similar email address is set up with subtle differences such as the same company name but with a hyphen or number added in making it hard to spot.
For example, a fraudster may email your business appearing to be an existing supplier, requesting payment for an invoice to new bank account details. This account will be under the fraudster's control. This can be done by either of the following: The supplier's genuine email account is hacked – a genuine email and any attached documents being sent to your business are normally amended before being forwarded on. Or the supplier's email address is being spoofed – the fraudsters will monitor the supplier's activity and time their spoof email carefully, copying attributes of the supplier's genuine emails.
To combat this it recommends raising employee awareness and creating a risk-based culture with procedures for staff to escalate any concerns and it says never assume that an email received from a known email address (or with a previous email trail) is genuine.
If a payment instruction is received to pay funds to a new payee or different account details for an existing payee, always check these details with the instructing party on a known telephone number. Don't verify by return email and don't call the number on the email – it could have been edited by the fraudster.
Check the email address carefully for discrepancies. Remember that fraudsters can create new email addresses that are very similar to the real thing and that they can hack into business emails as well.
Enable Two Factor Authentication (2FA) – this is where a second verification is required, usually after you've entered your password. It's often in the form of a secure code provided to you by SMS or an authentication app.
And, of course, never open unexpected file attachments or click links. I know you knew that but these scams happen so often and they can't all be little old ladies.
Contact Jac Roper
You can email your queries, news and views to:
jac@roper-biz.co.uk
or call:
020 8502 9775