Jac Roper on a rusty pump issue; password problems and cowboy rating firms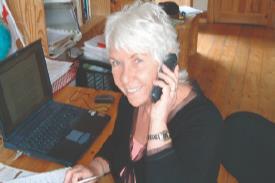 Rusty pumps, not a good look
If that headline is ringing bells it's because I first wrote about Ian Ritchie's problematic pumps back in December. The eight-year old Tokheim pumps were fine on the inside but the rusty outsides give the wrong impression entirely of his business (Victoria Filling Station in Milfordhaven). Ian thought it was to do with the poor quality paint powder.
At the time TSG told me they were working on a solution to resolve the issue.
When I spoke to Ian in the spring he hadn't got very far. They had made the pumps for somebody else in the first place and, because Ian had
got a good deal for them, they basically said he would have to pay something towards any solution.
Ian's response was to withhold his final £4k payment to them and get the PRA on the case. The company's accounts department chased and the bailiff came – and went – when it was explained that there was a dispute.
So far, so bad… but things are looking up. Ian is now dealing with a new contact at TSG, who he says seems very customer focused, and negotiations are afoot to supply him with new free panels that Ian will be able to fit himself to replace the rusty ones… saving the cost of an engineer's visit.
In the last issue I recounted Ismail Bhattay's problems with Htec. The main one was the password generator on the back office which had been removed meaning amending shifts took 10 times as long as when he just did it himself. Htec explained that this isn't standard protocol and their password prevented fraudulent shift patterns but in the case of Ismail's Mibsons Service Station in West Bromwich, there are no staff – it's family-run.
Then the pestering paid off. Htec has written to Ismail: "We have reviewed the situation following your explanation of your reconciliation issues between Payzone and Paypoint… We have made the decision that we will provide you with the password generator to reduce the operational impact of having to call our service desk to request the password to make these changes. However, please note that the password restrictions are in place to protect the back-office system and its users from both misconfiguration and from taking actions which may impact the validity and authenticity of trading data. Any actions taken using this tool will be done so at your own risk… Misuse of this tool outside of making corrections to shifts may result in a chargeable service call to rectify the problem."
Still, it's one less headache for Ismail.
Putting the 'con' into contract
I'd like to pass on a warning from trusted chartered surveyor Ken Batty who has battled the cowboys for many years. He says: "Tell your readers to be extremely careful of approaches that are being made by firms saying that they can get them grants even if their Rateable Value is above the prescribed limits.
"The future of rating is currently an unknown quantity and some of the cowboy firms are actually so ignorant of what they are dealing with that they are even referring to a revaluation in 2021. There is no revaluation in 2021 and there isn't one in 2022. The next revaluation, if it occurs at all, is 2023 but there is much happening on the rating front and given Covid-19 and its likely presence for the foreseeable future, this really is an unknown quantity."
He has personally been involved in three cases "where believe it or not some of the cowboy rating firms are trying to take 50% of the business rates holiday money, which is an entitlement".
The problem, as always, is in the fine print of the contract where it states that these parasites are entitled to a percentage, usually 50% of any savings achieved, by whatever means. Simple rule: never deal with cold callers.
It's been a quarter of a century for this column
This month marks my 25th year as a columnist for Forecourt Trader.
Looking back at the early Service Centre pages I see that drive-offs were a hot topic along with pre-payment for petrol, dipping tanks, the real cost of fuel, card sharks, banning people from the store and, again and again, drive-offs – some things never change. The list is very long but you know it even better than I do.
I wonder what it will look like in another 25 years? If it's all electric cars at least there won't be drive-offs!
You can email your queries, news and views to:
jac@roper-biz.co.uk
or call:
020 8502 9775