Jac Roper looks at problems with GripHero gloves and the new E10 fuel, and how a change of name caused problems at Camelot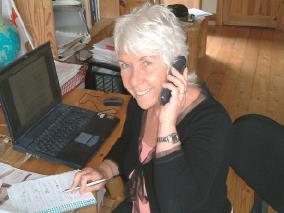 Getting to grips with E10
A forecourt operator who wishes to be known only as Huw got in touch with a grievance: "Yet again it looks like GripHero, the pump nozzle glove supplier, is making money out of its customers. They tell us they cannot supply stickers or inserts for their glove pump nozzle holders for E10 as they have yet again changed the design of their nozzle covers. So customers have to purchase new pump nozzle covers. They will supply some free covers with a box of gloves, but the box has increased in cost since our last delivery."
I sent this to GripHero and got the following robust response: "The original GripHero dispensers have a fuel grade label that is heat bonded to the unit in a controlled factory process. These older units were not designed to have changeable labelling and once in use, due to the build-up of fuel residues and other contaminants from forecourt life, the reapplication of stickers is not possible."
On replacement dispensers the company said it has now developed a new material for a clear/transparent top cover, that facilitates the simple changing of an insert with the fuel grade labelling.
"As a business, it is not viable for GripHero to replace dispensers free of charge every time there is a change to legislation. GripHero is, however, trying to help forecourts by absorbing some of the cost and offering to supply a number of dispensers without charge if gloves are purchased in the same transaction.
And on glove materials and development: "GripHero continually develops the hand-protection material range to enable forecourts to stay ahead of legislation changes around the world, such as the EU single-use plastics directive. GripHero has developed new hand-protection materials that further reduce CO2 and plastic footprints, including the use of recycled plastics to comply with this legislation.
"The original gloves were developed with anti-static properties to prevent self-generated static build-up within the protector. The new hand protection continues to prevent this static, however they now also block discharge sparks between users and the forecourt equipment – development to meet changing global legislation on static in explosive areas."
Keeping the lottery
Sebastian Nonis emailed from Forfar Road Service Station Ltd, Dundee, to seek assistance over an issue he had with Camelot. He writes: "I was trading as a sole trader and changed to a partnership some time ago. I informed Camelot regarding my change of trading status but they did not amend their records accordingly even though there was numerous correspondence going back and forth.
"The current situation is from 1st of September I became a limited liability company and I informed Camelot by a letter dated 26th July regarding the change of trading status. Unfortunately up until today there was not even an acknowledgement from Camelot.
"I am hoping you might be able to help me to contact someone with authority to get the matter sorted out."
I did speculate that he might have to sign a personal liability statement because, after all, if he ever went out of business as a limited company…
Anyway I wrote to Camelot and a spokesperson replied: "My colleague has now looked into this and has spoken to Mr Nonis – unfortunately, we never received his original letter so we're sorry for the delay in responding to him.
"Mr Nonis is happy with the solution that we've proposed, which means that he'll continue selling The National Lottery under his current retailer number for the time being – until his limited company is a bit more established. Mr Nonis also now has my colleague's number should he need to contact us in future."
Sebastian subsequently told me that he had had a call from Camelot and was told that, since he had changed his trading status he would need to wait for another year to change the name and the bank details. If he changed the name Camelot had told him they would need to do a credit check and, as a company, Sebastian would not have a credit history so his credit check would fail and in that case Camelot would have to remove his licence.
He also discovered that, as a policy, Camelot does not issue the lottery licence to businesses which are run as a partnership.
He adds: "That was surprising but now I do understand why they never changed my status when I became a partnership. On their records they wanted to keep me as a sole trader; to them it didn't matter I think what my actual trading status is. It was very hard for me to convince her that I am the same person who has been running the business for the past 15 years or so. This is just a change of name."
You can email your queries, news and views to: jac@roper-biz.co.uk
or call: 020 8502 9775