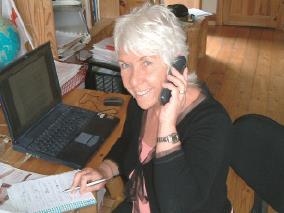 Nozzle up the spout and it's no joke
That might be a punning headline but the story is anything but funny. Danyal Shoaib got in touch from Hylands Service Station at Great Bookham in Surrey, to say that he had an issue with Tokheim (TSG) that had dragged on since last year.
Danyal writes: "In short, we purchased an AdBlue dispenser from Tokheim last year. It has been plagued with problems from installation to the first few months of operation. It was promised to be able to be used for cars and HGVs but can in reality only be used for HGVs."
He was keen to stress that he is not after compensation… just a solution. He just wants a nozzle that works!
The Esso site, which the family has run since 2006, had a major refurbishment last year which saw a refreshed store, a new Subway, car wash and the addition of Tokheim's AdBlue four-hose dispenser. The only real sticking point now is the dispenser, which doesn't work for all vehicles. Their site is not a service site nor an HGV site because the canopy is too low.
On an email copied to me, Danyal set out in chapter and verse the numerous issues they have gradually worked through this year and, to come back to the AdBlue nozzle, some possible solutions.
Danyal wrote to the company: "In order to continue this new working relationship with TSG – we have the full set of Karcher car wash, vacuum and air machines on site and all TSG pumps – we are happy to listen to your proposals." He then listed some possible solutions specific to the AdBlue pump.
These included replacing the nozzle with one without a magnetic release; replacing the pump and four hoses so that it matches the rest of the forecourt and the magnetic nozzle is no longer an issue; or complete removal of the tank and dispenser – which he said was not his preferred option. "If this becomes the only option we would then pass on the costs of aborted delivery and additional contractor costs that we incurred as a result of your late delivery."
All in all Danyal comes across as a completely reasonable and articulate person both on email and on the telephone, albeit frustrated that, after some 100 calls to Tokheim, this remains unresolved.
I asked TSG if someone could comment and commercial director, Andy Wallace, replied: "Regarding Danyal's original email to you, we have had one further call, and as agreed on that call, my colleague who sold the equipment has attended the site to review the options available to put in place the functionality that Danyal desires – ie the ability to sell AdBlue to HGV and light vehicles from both sides of the dispenser.
As this would require the installation of a different dispenser model, we need to make absolutely certain that it would fit, and that the pipework can be adapted accordingly. Once we are
sure of this, we will be discussing the options and costs with Danyal, with an aim to come to a solution acceptable to both."
When you spend around £75k with a company, you expect everything to work as promised. But it does look like both parties are edging closer to resolving this issue and I hope to bring you the good news in due course.
Can anyone recommend an EV charger supplier?
An anonymous caller wondered whether I had had any complaints about electric charging point companies. The short answer was no. But he had previously contacted a prominent supplier and said he was close to signing with them when it all went quiet. It transpired that someone had left the company which, for some reason, stopped the company from responding altogether. Then of course, along came Covid, the excuse for every delay/poor response and failure of any sort these days. I know it's still early days in this particular market and maybe one should remember chairman of the PRA Brian Madderson's words earlier this year, when he advised everyone to watch and wait.
Meanwhile, can anyone recommend a good supplier?
Are you ready for the big one?
One way or another Christmas will happen. And although we all joke that it seems to start earlier than ever every year, the need to get your 'Christmas stocking' policy in place should, like the sprouts, already be well on the boil.
This is being written during a second English lockdown with a lone bright star in the near distance – the promise of a vaccine. As we all know anything could happen but still there will be Christmas.
So I take this opportunity to wish you no stock shortfalls and plenty of walk-in as well as drive-in customers to the tune of Jingle Tills.