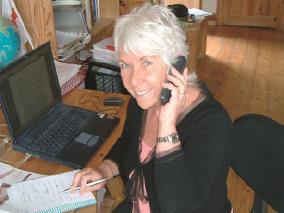 There are quite a few things to consider when it comes to making someone redundant. Raj Patel emailed from the East Midlands to say that his business had been hit lately and he wanted to lay off at least one member of staff, possibly two.
I consulted the Employment Advice Bureau (EAB) which had an awful lot to say on the subject. "It's understandable that when carrying out employee redundancy, the employer will want to retain the best-behaved and best-performing staff."
But it adds that you have to use selection criteria to make sure that the redundancy process is carried out fairly and that employees are not selected for the chop for discriminatory or biased reasons.
There are a variety of selection criteria for making an employee redundant, including disciplinary records and essential skills and qualifications. "However, it's vital that employers don't fall into the trap of using the redundancy process to disguise a dismissal for another reason because it feels like a 'kinder' way of dismissing a poor-performing employee or is a good excuse to remove the most troublesome employee."
What you have to remember is that it is the role that is redundant, not the person.
The advice bureau also says it is wrong to think that, if there are two people and just one job that this meets the definition of redundancy. The situation that tends to crop up a lot is that the employer has taken on a temporary member of staff to cover long-term sickness absence or maternity leave, and it turns out that the temporary member of staff is something of a star player.
"The employer can't keep both employees due to insufficient funds or workload, which triggers thoughts of making an employee redundant. On the one hand, this is understandable. There are not two employees and one role. There is one role that belongs to the original post holder, and they have every right to return to their job.
This is especially important for an employee on maternity leave who has the right to return to their original role. The temporary staff member should have been given a temporary or fixed-term position on the understanding that their contract would end on the return of the original post holder.
"Though it's not uncommon for the needs of the business to change during an employee's long-term absence, this situation is doubtful to trigger a genuine case to make an employee redundant, and the situation should be approached with caution and advice from EAB."
It further adds: "If your business is being sold or taken over, this is likely to be a TUPE situation, not a redundancy. TUPE stands for Transfer of Undertakings (Protection of Employment). A TUPE transfer occurs when an organisation, or part of it, is transferred from one employer to another. This can include a sale, a takeover, or when a service or contract is transferred to a new provider."
So, for example, if you are selling your forecourt and store and the new owner also plans to run the business as a forecourt and store, they will need to take your staff as well whether they want to or not.
"If you carry out the redundancy process when they should have been afforded the right to transfer, this will be an automatic unfair dismissal."
'Layoff' is where you have the option to keep your employees away from work without their contractual pay or salary while maintaining their employment. Short-term working involves an employee's contractual hours being temporarily reduced.
"It seems an obvious point to note, but for a role to genuinely be redundant, it does have to have ceased or diminished in some way. If you know at the point of making staff redundant that you intend to re-recruit into the position either immediately or shortly afterwards, then this is not a redundancy." (This is one especially that Raj should consider if business starts to pick up again.)
"Employee redundancy can't be applied because you have a temporary shortage of work; perhaps there has been a flood, and you need to close for some time before resuming operations, or a contract that was due to start has been delayed by a few weeks. You don't have enough work to occupy the entire workforce in the interim. These are examples of where layoffs or short-term working can be used. Layoffs can be for their full contractual hours or one day a week.
"Contractual pay is not payable during layoffs, but statutory guarantee pay (SGP) is payable where at least one day of work is lost. The current rate (2023) is £35 per day for a maximum of five days in a 3-month period. Depending on the individual circumstances, an employee may be entitled to employment benefits during a period of layoff.
"It is still used for the same reasons as layoff, but in this instance, no full days are lost, and therefore SGP is not payable. Instead, employees are paid only for the hours that they work."
The bureau asks that you should please note that you are only able to use layoffs or short-term working where your contracts of employment or employment handbooks allow.
There are also rules when someone asks to be made redundant (perhaps if you were addressing someone's poor performance, and they suggest that you 'just make me
redundant').
"On the one hand, this seems like a good solution for all involved, except the role is still there, so redundancy for employers is not an option, and despite the employee's request, if they have over two years' service, making an employee redundant under these circumstances could still leave the employer exposed to the risk of an unfair dismissal claim.
"The above scenario is another example of a sham workplace redundancy and should not be confused with voluntary redundancies, which can be offered to employees when a business is facing a genuine situation that requires employee redundancy.
However, even under the circumstances of a genuine redundancy, for employers, it's worth noting that voluntary redundancy is not a resignation. You must understand how to make an employee redundant, as this is still a termination of a contract, and there must be a genuine reduction in work affecting the role of the person who wishes to volunteer."
Like I said, lots of rules.
You can email your queries, news and views to Jac@roper-biz.co.uk or call 0208 8502 9775