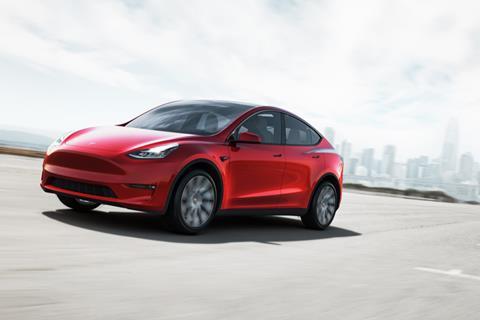 If anyone thought the softening of the EU's stance on zero-emission cars might be replicated by the UK government they were swiftly disabused of that notion. Just two days after the EU voted to allow new cars with internal combustion engines (ICE) to be sold after 2035 – if they use only e-fuels – the UK government reiterated its plan to phase out the sale of all petrol and diesel cars by 2030 and all non-zero-emission (tailpipe) cars by 2035, and there would be no exception for cars running on e-fuels.
The reaffirmation of its plans was contained in its Zero Emission Vehicle Mandate, which it has put out for consultation, and was just one of a raft of green policies unveiled on March 30. Originally billed as "green day" by the government's spin doctors, it was re-engineered as "energy security day" to reflect the state of the global energy market, but still contained several significant announcements for the road fuel sector.
Top of the bill was energy security secretary Grant Shapps, who announced a wide range of energy-related policies including the first tranche of new green hydrogen production projects under the £240m Net Zero Hydrogen Fund. Hydrogen is in its infancy as a power source for transport compared with battery electric vehicles (BEVs), but several of the schemes receiving funding will set up hubs which could become the focus of hydrogen refueling networks in their regions.
Planning reforms
Shapps also pledged to reform the planning process to enable the building of more energy infrastructure such as solar power and offshore wind projects more quickly. This was welcomed by Ken McKeikan, CEO of Moto, but he said there was a need for much greater urgency: "Access to power and the UK's ability to generate enough green energy are some of the biggest barriers we face in leading the roll out of ultra-rapid EV charging hubs across the UK motorways. That is why the promise of a speeded planning process to accelerate solar and offshore wind projects is tantalising but is missing the one thing we need most – pace. We need more power now. In seven years' time we expect EV charging in the UK will require 12 times more energy than we currently use today. We urgently need cross-government collaboration to deliver infrastructure and planning reforms much more quickly and decisively. If this planning promise is delivered at the same slow pace as the previously announced Rapid Charging Fund back in 2020, it's likely UK EV drivers will not have sufficient high-power chargers to cope with demand. Urgent action is required now."
Next up was transport secretary Mark Harper, who announced almost £400m of additional funding to support development of EV charging infrastructure in England, comprising the £381m Local Electric Vehicle Infrastructure (LEVI) fund alongside an additional £15m for the On-Street Residential Charging Scheme (ORCS).
Harper said: "Transport is one of the most important sectors for achieving net zero by 2050 and so we must accelerate our efforts to decarbonise how people get from A to B while growing our economy and supporting thousands of green jobs. From expanding our charging network to boosting the production of cleaner aviation fuel, today's announcement is a great stride forwards, offering people more choice on how to stay connected while delivering the carbon reductions needed to achieve net zero."
But the event with the greatest impact for fuel retailers, because it involves slowly choking off their traditional customer base, was the publication of the Zero Emission Vehicle Mandate (ZEVM). It is a consultation document, with responses required by May 24, but after a long drawn out gestation it feels as if the government has now coalesced around a plan to phase out ICE cars and vans.
It maps out the government's vision of how production of new diesel and petrol cars and vans will be phased out by 2030, although it still fudges how other non-zero emission cars such as hybrids will be phased out between 2030 and 2035. It states: "All new non-ZEV cars and vans sold from 2030-2034 must have significant zero-emission capability (SZEC). Given ongoing uncertainties around the real-world emissions and test cycle monitoring of various drivetrain technologies, which we continue to track, the UK government cannot yet provide a detailed definition of SZEC for cars and for vans. This first tranche of legislation sets out legislative requirements up to and including 2030 and does not specify SZEC requirements for vehicles from 2030. Further detail on this will be set out in mid-2023, though the UK government's commitment is unchanged."
Zero-Emission Vehicles
The document defines a Zero-Emission Vehicle (ZEV) as one that "must emit no CO2 or any other targeted greenhouse gases at the exhaust and have a minimum range of at least 120 miles (WLTP)". This appears to rule out e-fuel vehicles, which the EU will allow after all other new ICE cars are banned in 2035, and a Department for Transport (DfT) spokesperson confirmed: "E-fuels are not proven technology, have expensive and complex supply chains, and emit much of the same pollutants as petrol and diesel. They might have a role for specialist vehicles, but we are not looking at them as a solution for normal cars and vans."
The ZEVM stipulates that vehicle manufacturers will have to sell a rising proportion of electric vehicles (EVs) in the lead up to 2030, beginning in 2024. The proposed minimum ZEV target for new cars sold by manufacturers begins at 22% of their total cars sold in 2024, increasing to 80% in 2030 and reaching 100% in 2035. The proposed minimum ZEV target trajectory for new vans sold begins at 10% in 2024 and reaches 70% in 2030 on the way to 100% in 2035.
If manufacturers exceed their ZEV targets, excess ZEVM allowances may be traded to other manufacturers for any price. Manufacturers that don't meet their targets will be issued with fines, suggested to be £15,000 per car. Exemptions from the ZEV mandate requirements will apply until 2029 for manufacturers selling less than 2,500 cars or vans per annum.
Commenting on the announcement of the ZEV mandate consultation, Zemo's CEO Andy Eastlake said: "Working together we have eight weeks to get the 'devils out of the detail' to deliver a world-beating ZEV mandate and put the UK on a clear trajectory to phase out all emitting vehicles by 2035."
Watershed regulation
The Society of Motor Manufacturers and Traders (SMMT) welcomed the consultation but was highly critical of the length of time it has taken to come up with the ZEVM and the lack of clarity. SMMT chief executive Mike Hawes said: "Automotive is on track to deliver zero-emission motoring, so we welcome this long-awaited consultation on a watershed regulation for the UK new car and van market. We want regulation that gives consumers choice and affordability, and enables manufacturers to transition sustainably and competitively.
"While the proposals rightly reflect the sector's diversity, late publication and lack of regulatory certainty make product planning near impossible, and the continued lack of clarity as to what technologies will be permitted beyond 2030 undermines attempts to secure investment."
"The UK new car and van market is already moving at pace towards electrification, the result of massive investment by manufacturers and increased consumer demand. If the UK is to lead the global race to zero-emission mobility, however, it must go further and faster in unlocking infrastructure investment, incentivising EV ownership and helping ensure more of these vehicles are developed and built in Britain."
BVRLA (British Vehicle Rental & Leasing Association) chief executive and Zemo board member Gerry Keaney, said: "The ZEV mandate is a critical tool in the UK meeting its ambitious Net Zero targets. The clarity given today will give fleets and motorists the confidence to continue their decarbonisation journey and accelerate the transition to zero-emission transport. BEV demand is growing – driven by company car fleets – where over 50% of new registrations are electric. We now need supply to keep pace by providing a wider range of vehicles at all price points. The ZEV mandate will help to ensure the right vehicles are coming to the UK, allowing more drivers to make a swift switch to electric."
Guy Spence, managing director of LV= ElectriX, commented: "As ever, the devil is in the detail – it's essential that the plans are bold enough and there aren't any loopholes that may jeopardise results. If done right, the Zero Emission Vehicle Mandate will help us reach price parity of electric vehicles with petrol and diesel cars sooner. It should also increase the makes and models of electric cars available and will have the longer-term benefit of a more buoyant second-hand market for electric cars, making EVs more affordable across our communities. In parallel, we must also accelerate rollout of reliable charging infrastructure that is easy to use, safe and accessible."
Everyone must welcome more clarity on the government's plans to transition away from ICE cars and vans and a chance to influence the final outcome, but whether it will be successful in the timescale it has specified must still be open to question. It will only succeed if car and van drivers choose to buy the zero-emission vehicles – and at the moment it appears to only option will be BEVs – the manufacturers are being forced to produce, but at the moment the vast majority of them remain to be convinced. The SMMT has reported the growth in sales of EVs has tailed off in recent months and the AA has reported that the number of drivers planning to buy an EV has fallen from 25% to 18% in the past year. Concerns over the availability of chargers, and how the power for them is going to be generated, will have to be addressed. But most importantly, the cost of buying BEVs will have fall significantly before enough drivers can even afford them whether they aspire to own one or not. The government may have to throw yet more cash at the problem – in the form of subsidies to car buyers – if bigger volumes don't bring the manufacturers' costs down sufficiently.