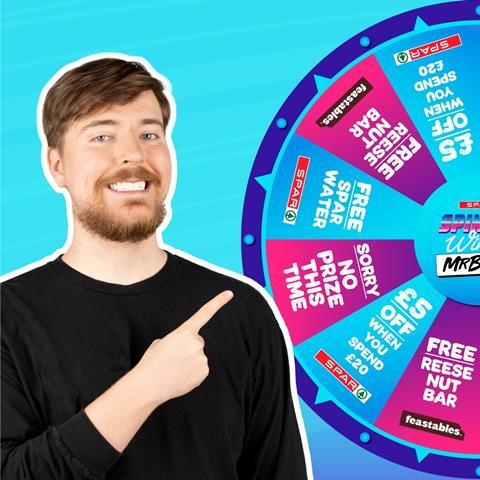 Spar has launched Spinner Winner, a new campaign in collaboration with internet personality and philanthropist, MrBeast.
The symbol group began its partnership with MrBeast by launching Feastables in the UK last month. This new campaign, which runs until the end of the month, gives customers a daily opportunity to spin a wheel and win prizes.
MrBeast said: "I'm incredibly excited to join forces with Spar UK. It's a fantastic opportunity for my fans to engage in a fun and interactive experience while having a shot at winning some amazing prizes. I'm especially thrilled that my UK fans will also get the opportunity to try my Feastables chocolate bars."
With Spinner Winner, every spin not only grants players a chance to win a prize instantly but also earns them entries into the grand prize draw at the end of the campaign. With a prize pool exceeding £150,000, there are several rewards up for grabs, including a £50,000 car or £10,000 in cash.
In addition to the online game, 41 selected Spar stores will be hosting in-store events as part of the Spinner Winner campaign, enabling customers to physically spin a wheel and immerse themselves in the 'beastmode' game.
Participants have the chance to win instant prizes, but they also have the option to forfeit their prize for an opportunity to unlock a mystery box. If they can find the correct key to open the box, they will unlock a mystery prize.