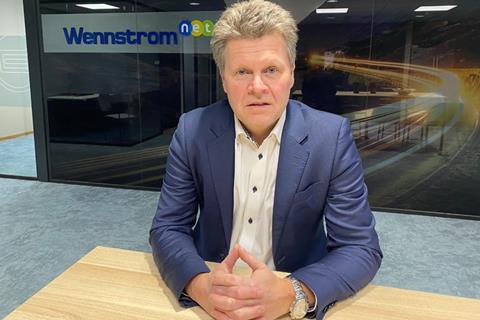 Dover Fueling Solutions' analyst support centre in Skelmersdale, Lancashire, which it describes as the largest fuel management analysis centre in the world, will have a key role to play in a new deal agreed by the company.
The forecourt equipment and services company has signed a three-year licensee agreement with Wennstrom to provide its wetstock management services in the Nordic region.
Wennstrom is one of the largest distributors of fuel-related products and services for the northern European transport market through its offices in Sweden, Norway, Denmark and Finland. The company already has a contract to sell DFS' Wayne and ProGauge products, as well as to carry out servicing and parts installation work, having been a partner and distributor for DFS for nearly 10 years.
Wennstrom already provides wetstock monitoring services from its analyst centre in the Nordics, and the new agreement will mean access to expert backing from the analyst support centre in Skelmersdale.
"We are really pleased to have signed this new agreement with Wennstrom," said Tim Firkins, senior manager, business develoment. "Wennstrom has more than proven its value to DFS over the many years it has partnered with us, which makes it the ideal fit to roll out our expert wetstock services to the Nordic market, which is home to over 10,000 active fuel stations. We are more than confident this partnership will be instrumental in facilitating future DFS growth in the region."
Andy Sullivan, general manager and senior director, Global Wetstock, DFS, added: "The Wennstrom Group is dedicated to serving the market with the best products, services and maintenance for fuel distribution and refuelling sites.
"Adding the Fairbanks expert monitoring service to its already strong portfolio will mean that both Wennstrom and DFS can continue to grow their business presence in this profitable market, and achieve great things over the coming years."
Øystein Tangen, managing director of Wennstrom Norway, added: "There is in an increased focus in the market on wetstock management, in order to protect the environment from the negative impact of fuel leaks. Our customers are not only concerned for the environment, but they also want to protect their business reputation and improve profitability by reducing fuel leaks to ground.
"The expert monitoring carried out by Wennstrom's analysts, trained by specialists at Dover Fueling Solutions, means instances of fuel loss can be quickly detected and the root cause swiftly identified, helping our customers to achieve these common goals. We look forward collaborating closely with the DFS Wetstock team."