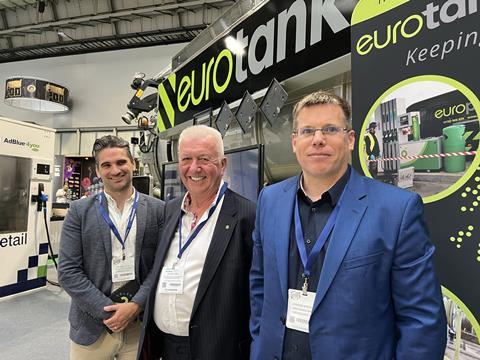 Eurotank team: Jack Aplin, group sales director; John Rome, interceptor and environmental management consultant; and group managing director Edward Wheeler
Celebrating 21 years in business in 2022, Eurotank Service Group made a big impression with its newest Rolba ADR vacuum tanker forming the centrepiece of the largest stand at the show.
The company has one of these trucks based in each of its depots – in East Kilbride, Stoke-on-Trent and Southampton – to easily cover the whole nation with interceptor and drainage cleaning services.
The Rolba tankers have built-in water jetting for thoroughly cleaning out drainage systems after uplifting the sludge and silt, ensuring forecourts will cope in the event of any spills or heavy rain.
Eurotank also showcased two models of fuel dispenser new to the UK – the Smartline H and Smartline L – from Turkey-based manufacturer Mepsan, for whom Eurotank Service Group is UK distributor.
The first Mepsan pumps in the UK are set to be installed in the next couple of months – first on commercial sites in Billingham and Havant, followed by a petrol station in Northwest London, which will also have a pay@pump terminal integrated into the two pumps on the forecourt's outside lane to help combat late-night drive-offs.
Displayed alongside the two Mepsan pumps was a standalone OPT. The first of these to be installed in the UK mainland was by Eurotank subsidiary Europump Maintenance in January this year.
Next to that Eurotank exhibited a GreenChem Smart Light Retail AdBlue storage and dispensing unit, which has a footprint of 1520mm x 1300mm, making it even suitable for forecourts with limited space. Eurotank has been a service and installation parter for GreenChem for several years.
The other side of the tanker was dedicated to Eurotank Environmental services. The EE team was on hand to demonstrate the full range of tank lining solutions available, ranging from the company's Lifeliner double-skin option, which comes with a 30-year warranty and most relevant to those operators who are in the market for the long-haul and want to ensure the longevity of their underground fuel storage systems, to the lower-cost Sprayliner, Dopa and Dopa Light systems, which each come with a 10-year warranty. The company also demonstrated the Fastliner bladder tank lining system, which can be installed in one day, with or without manned entry, making it the fastest way to upgrade an underground storage tank. Liners being installed without entering the tank use a fleece material delivered already connected to the liner.
Other equipment on display was Eurotank's Calibex laser tank calibration technology that quickly measures a live underground tank to produce a highly accurate strapping table, and an ATEX Zone 0 tank cleaning robot. This robot really comes into its own when combined with the unmanned Fastliner installation service to offer a fully unmanned tank upgrade solution for customers with a 'no men in tanks' policy.
Eurotank's group managing director Edward Wheeler said: "We've waited a long time for an industry event on this scale. It was great to see so many of our customers and meet some potential new ones for the first time.
"This year is Eurotank's 21st year in business and we've come such a long way in that time. We now have the capabilities to provide all the fuel system services a fuelling facility needs. Everything from tank and pipeline cleaning, tank upgrading and forecourt construction to pump service and maintenance, VR testing, electrical testing, interceptor cleaning and equipment installation. The industry is at a crossroads and we know retailers face difficult decisions about the direction they want to take their business in.
"Whichever direction you take, we're here to help you assess the condition of your fuel system assets and make recommendations to help you achieve your objectives."