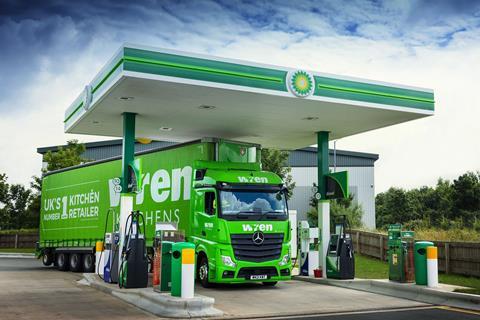 BP and Mercedes-Benz Trucks UK have tested what is claimed to be the first digital in-truck fuel payment system in the UK, running a pilot trial with Wren Kitchens.
The new app-based system, BP In-Truck Pay, is intended to make fuel purchasing and management faster, more efficient and more secure for both truck drivers and fleet managers.
The app has been developed for the latest-generation Mercedes-Benz Actros, which can be specified with Multimedia Cockpit, Interactive.
This incorporates the Truck App Portal, an open platform that can be used by fleet managers to assign apps to their vehicles via their Multi-Touch Display.
BP In-Truck Pay is designed specifically for fleet operators to help get drivers back on the road faster. It requires just three steps – drivers confirm the site, unlock the pump and refuel.
The truck logs the fuel transaction – paying for the fuel itself. Drivers don't need to pay in the shop or enter data, and there is no need for fuel cards.
In the pilot trial, Mercedes-Benz truck customer Wren Kitchens used BP In-Truck Pay with 11 vehicles from its fleet.
Lee Thompson-Halls, national fleet manager for Wren Kitchens, said: "We strive to always be ahead of the game, and trialling innovative initiatives like this means we can potentially drive progress within our business, and, ultimately, the logistics sector as a whole.
"The trials have shown an increase in efficiency, with savings of approximately five minutes per transaction. When you add that up over time, it will have a hugely positive impact on our business, which delivers over 100,000 kitchens per year across the UK. Not only that, but it will also be beneficial for our drivers, by creating a safer and quicker way to pay for fuel."
Alexandru Eftimiu, BP's VP fleet Europe, said: "We aim to provide innovative digital solutions to make customers' lives easier. BP In-Truck Pay shifts how we connect with our customers through digital and online platforms. It makes life easier and more convenient for both managers and drivers of commercial fleets. We've already received fantastic feedback from Wren Kitchens and look forward to bringing BP In-Truck Pay to other customers and countries in due course."
Richard Skidmore, head of customer service delivery, Mercedes-Benz Trucks UK, commented: "Connectivity is integral to the strategy of Mercedes-Benz Trucks. BP In-Truck Pay demonstrates perfectly how the Truck App Portal can amplify the benefit of running Mercedes-Benz trucks by helping customers to save money, increase efficiency and retain drivers. We are proud of the part our Connectivity team has played in the development of this app that has the potential to transform the way in which operators may purchase their fuel."