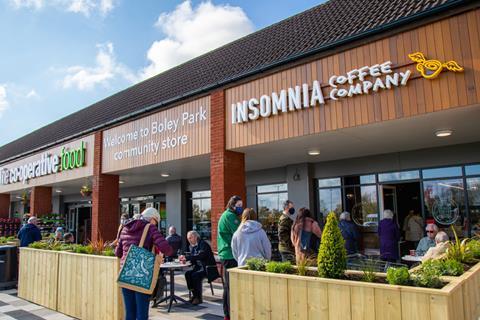 Central England Co-op has opened a new coffee shop at its £3m flagship food store and petrol filling station site in Lichfield creating 10 new jobs.
The Insomnia Coffee Company outlet is its first in Staffordshire and offers a takeaway service and outdoor dining, in line with government guidance, before it is hoped it can open fully to customers in the summer as restrictions ease.
Insomnia is Ireland's leading independent coffee shop chain where it was founded in 1997 but has been rapidly expanding into the United Kingdom with outlets across the country.
Central England Co-op has chosen Insomnia as its franchise partner, and the modern and elegantly furbished coffee shop serves 100% Fairtrade tea and coffee and a selection of sandwiches, cakes and snacks.
The launch event saw live entertainment outside for customers and members as they visited the new shop, as well as a range of great opening offers, with more Central England Co-op member exclusive offers available in the coming weeks.
The coffee shop was officially opened by Central England Co-op Vice-President Elaine Dean, along with local artist Chris Day who designed several pieces of Lichfield-inspired artwork for the shop's interior.
Harry O'Kelly, Insomnia Coffee chief executive, said: "We are delighted to open this new store in partnership with the Central England Co-operative. We hope Insomnia becomes a popular hub for the local Lichfield community. Initially, we will open for takeaway and outdoor dining, followed by indoor dining on May 17.
"We take great pride in our in-store experience from our 100% Fairtrade coffee and tea, tasty treats, to our sustainability initiatives. Our philosophy on customer service is simple – we place our customers at the core of the business – when they are happy, we are all happy. That is what Insomnia Coffee Company is all about."
The coffee shop is the latest phase of the revamped Boley park development to open after the successful launch of the revitalised food store, new petrol filing station and redesigned car park late last year. Two other units housing a gym and fish and chip shop are set to open this summer to complete the project.
The Insomnia Coffee Company at Central England Co-op Boley Park is open every day from 7am-7pm.