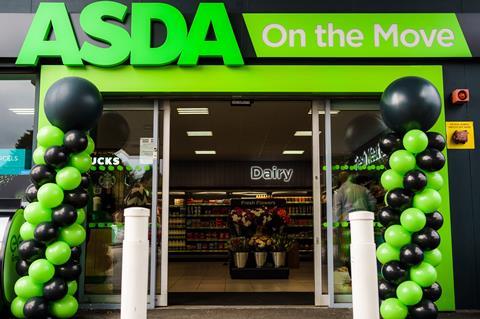 The first 'Asda On the Move' convenience store has opened on a Euro Garages site in Walsall. The site is part of a three-store trial with EG Group that will see Asda open on forecourts in the Midlands during October.
It follows last week's announcement that Asda was acquired by the Issa brothers and TDR Capital with Walmart retaining an equity investment.
The 'Asda on the Move' format is designed to give motorists the chance to shop for fresh food and essentials as they refuel their vehicles. Located at Primley Service Station, on the A454 Wolverhampton Road in Primley, it will offer customers a comprehensive range of 1,500 products drawn from all key categories including bakery, fresh, chilled and ambient.
Customers will be able to shop for 'essentials' such as bread and milk, as well as 'food to go' products. The site will also feature ToYou parcel points, allowing customers to order items via George.com and over 100 popular online retailers for collection or return.
The launch of the Asda On the Move trial comes after the supermarket announced the extension of its 'test and learn' partnerships strategy last month, which sees it align with complementary brands such as Greggs, B&Q and Uber Eats to broaden its existing customer offering.
Debra Lees, Asda's senior director of Corporate Strategy and Partnerships, said: "We are very pleased to launch the first Asda On the Move as it means we can explore how we bring our great value products to customers in their local communities.
"We know that customers are increasingly looking for value and convenience as a result of the pandemic and we are confident that Asda On the Move will be well received by them."
The additional Asda On the Move trial stores will open in Leamore on October 15 and Ashby-de-la-Zouch on October 20.