The ready-to-drink chilled coffee category has yet to reach its full potential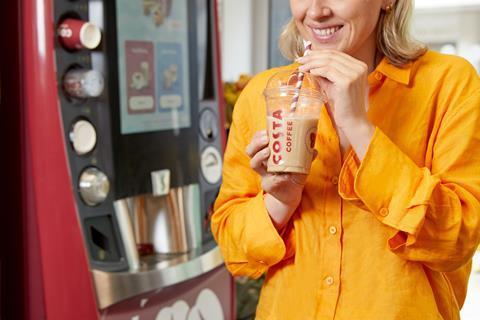 Costa Coffee has been busy over the last few weeks giving away free cold drinks to Costa Club loyalty club members – and the good news is that this included those using its Costa Express machine.
The activity was to celebrate the launch of its 2022 summer drinks range. And it came at the same time as Costa revealed new data that illustrated s the popularity of its Iced Coffee, Iced Tea and Fruit Coolers. Figures reveal over seven million iced coffees were sold across Costa Coffee stores in 2021. The holiday destination that is the South West region drunk the most cold beverages across the peak summer months in stores while customers in Bristol purchased the highest proportion of cold drinks than any other region from the Costa Club app.
However, there is another way to enjoy Costa Coffee cold drinks and that is via the ready-to-drink (RTD) range which has just received a boost thanks to the launch of new Chocolate Fudge Brownie and Caramel Swirl Frappé variants.
Costa Coffee and its brand owner Coca-Cola Europacific Partners' Coffee Vision consumer research identified that the key RTD coffee need state of a 'boost' or 'pick me up' can be broken down into low intensity, medium intensity and high intensity, where different consumer groups make choices based on level of caffeine, coffee flavour and sweetness.
As well as having low caffeine intensity – which is attractive to younger adults – the new RTD Frappés contain less sugar than many of the other brands on the market, meaning they will comply with the new HFSS regulations.
According to the research, RTD coffee is worth £228m and is up 37% in value year-on-year, which equates to an extra £65m of sales in the last 12 months (Nielsen data).
Adam Hacking, head of beverages at Arla (which makes the Starbucks RTD coffee), says part of the category's popularity can be attributed to the fact it meets more than one consumer need – taste, hydration, an energy boost and satiety. "It therefore naturally attracts a wider number of shoppers to the category as consumption is driven by different need states, at different times of day," he says.
To make the most of this evolving category, Hacking says retailers should ensure their range reflects the needs of their customers, as well as acknowledging their dietary requirements by offering sugar-free and dairy-free variants.
"Siting within the store is also an integral part of whether an offering is successful. The RTD coffee category should be sited within the soft drinks fixture alongside dairy drinks and as close as possible to the energy category, with several facings of the most popular lines. To help retailers achieve this and replicate Starbucks' famous coffee-house favourites, Starbucks RTD is available in a variety of formats and flavours to meet differing shopper demographics."