Nothing motivates Certas Energy's Myra McPartlin more than achievement – whether that's at work or in her private life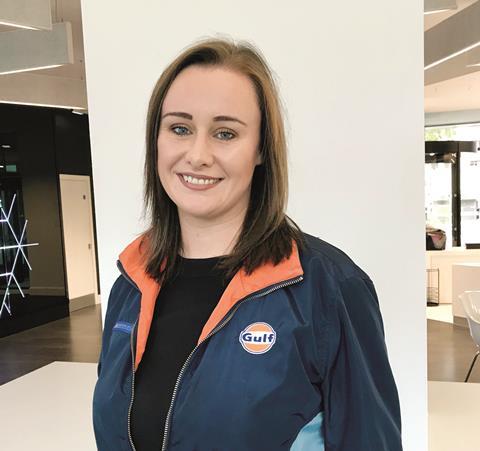 Name: Myra McPartlin
Job title: Regional business manager, retail
Company: Certas Energy
20 QUESTIONS
01 Career history: After a number of years bartending in Ireland and New York, I decided I'd better join the corporate world! I started the DCC plc Graduate Programme after completing a Masters at Trinity College Dublin. I then took a permanent role as communications business partner at Certas Energy. After a couple of years, I applied to be an area manager and have recently been promoted to regional business manager.
02 Dream job – if you weren't doing this: Game show host.
03 What do you drive: Audi A3.
04 Where did you grow up: South Dublin.
05 Perfect day: Sitting outside on a sunny day with a glass of wine, surrounded by my nearest and dearest. And a winning Lotto ticket.
06 Holiday wish-list: Route 66 road trip in the US – via New Orleans.
07 Favourite read: Margaret Atwood is always a safe bet.
08 Three words to describe yourself: Energetic, honest, competitive.
09 Possessions you couldn't do without: My mobile phone – it's not a 9-5 job so I make sure I'm available whenever necessary.
10 Most admire: Those who work hard to achieve their goals.
11 Best news over the past 12 months: I got engaged in August! Wedding planned for 2022.
12 Pet peeve: People who chew loudly. I see red.
13 Biggest fear: Wasps. Or cucumber in sandwiches.
14 Most important qualities in the workplace: Positivity and reliability.
15 Best holiday: Cuba in 2017, Colombia in 2018 and anywhere that will take me in 2021.
16 What motivates you: Achievement – whether that's new business, developing people, finding solutions to problems, growing the bottom line or achieving personal goals.
17 Best thing about the job: Working in partnership with customers to grow their whole business.
18 Best bit of business advice you've ever received: Greig Dickson, my first manager in the world of retail, taught me that if there's something to be discussed with a customer it's better to be upfront and direct rather than sugar-coating it.
19 Most recent business achievements of note:
Keeping the business moving forward during the pandemic, ensuring that staff, customers and their families are safe and well looked after.
20 What's happening in the forecourt sector? The sector may have been scarred but the standing of forecourts as a beacon within their communities could not be greater.