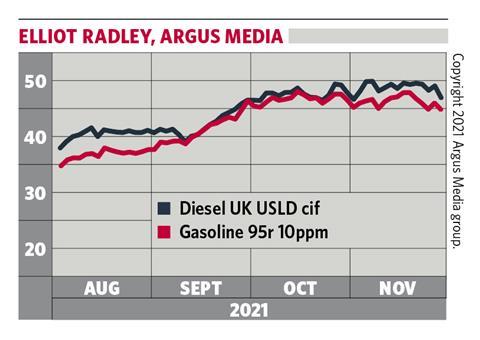 The European refined products market is facing uncertainty as cold weather sets in and Covid-19 cases rise on the continent. European demand for road fuels has been robust in recent weeks, at a time when the refining industry slows run rates to conduct maintenance. That has lent support to production margins and helped push outright road fuels prices to record highs in the UK, as well as elsewhere in Europe.
Gasoline margins to North Sea Dated crude hit almost $18/bl in early November, marking atypical four-year highs, given margins tend to fall in winter amid more stringent evaporability requirements. Diesel margins were lower, but still returned to pre-pandemic levels to average over $14/bl in October, rising from $10.50/bl in September. Stocks of refined products have fallen steadily as a result.
While fundamentals have been strong, the steep gains in road fuel price rises have been largely driven by a surge in crude prices.
But early signs are emerging that product demand is now starting to fade, and that coincides with rising supply as refineries ramp up from the maintenance season, and the prospect of further falls in demand if movement restrictions are reinstated with Covid cases on the rise across Europe.
Early data releases for October show road fuels demand easing back below 2019 levels in France and Spain, after surpassing it during the summer months. Whether that pattern emerges across Europe more broadly remains to be seen, but refinery margins have already turned. Gasoline has moved down to premiums closer to $12/bl against crude in mid-November, from the near $18/bl highs at the start of the month. Diesel is now seeing premiums of around $11/bl.
At those levels, refineries should continue to turn a profit, but uncertainties remain on the horizon, not least how a cold winter will affect the energy industry. Natural gas and electricity prices both touched record highs recently, and both are key to the production of road fuels. If rampant heating demand brings about gas supply shortages across Europe, the fallout for the refining industry could be massively disruptive.