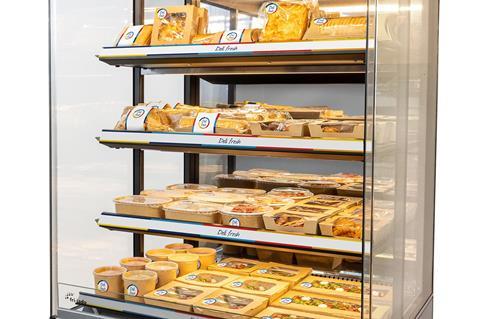 Global equipment company Fri-Jado has launched the new Multideck Display (MDD) range as it recognises growing demand for convenient and flexible solutions.
The new MDD has been designed to "put food in the spotlight" and is aimed at retailers serving the expanding food-to-go market,which is expected to top £90m by the end of 2022.
The company says it represents the next generation of hot-holding cabinets, and has been designed from the ground up, using genuine operator feedback, and focusing on the three core principles of visibility, efficiency and ergonomic design. Each element is integrated into the units to help drive sales by putting food front and centre, displaying it in a way that generates and encourages impulse purchasing.
Combining ultra-thin shelves with patented air-flow technology, the MDD range is designed to achieve maximum transparency, while managing consistent temperature control and improving on technology traditionally found in static heat or air-driven-only cabinets.
It showcases the food, while also claiming a 20% energy saving compared to other units available on the market. The energy saving is achieved by a combination of unique hot airflow recirculation, efficient DC fans, improved insulation and double-glazed glass, all of which not only establishes a lower cost of ownership, but is also significantly better for the environment.
Operators can choose from four or five shelves, widths of 60cm, 90cm or 120cm, single or multi-temperature control and solid back or pass-through, ensuring the new unit will effortlessly integrate with an existing front-of-house setup. The improved design also means the lower shelf is now 12cm higher than before, and with greater space between shelves, the unit creates maximum product visibility, ensuring the customer's full focus is on the food.
Mike Littlewood, managing director of Fri-Jado UK said: "The new MDD range represents a breakthrough in hot- holding display equipment and we are proud that Fri-Jado is once again leading the way. Building on real feedback from operators around the world, the units combine the greatest visibility, maximum display space and patented heating technology to ensure food is in the spotlight and is preserved at its best for longer. A stand-out, ergonomic shape ensures the equipment will complement even the most sophisticated venues, while a choice of format, height and width helps to deliver ultimate flexibility."
He said that many operators looking for flexible, adaptable equipment to future-proof their business, Fri-Jado has considered every element of the MDD range: from adjustable shelf angles to further improve visibility, to individual shelf temperature control (between 40°c - 70°c) operators can hot-hold several different types of food in the same unit. The patented 'Hot Blanket' holding technology claims to achieve high food preservation, extending shelf life by combining conductive and radiant heat, which work together to ensure a precise, consistent temperature across the food.