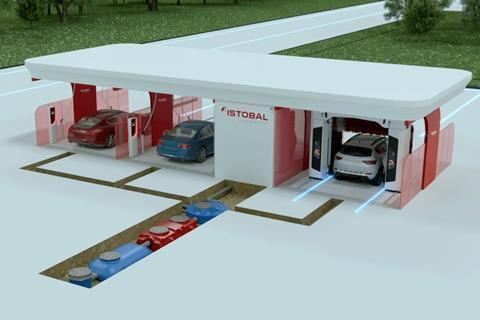 Spanish car wash specialist Istobal is claiming to be the first manufacturer to develop zero water disposal in its car washes thanks to its pioneering biological recycler with ultra-filtration system.
The company says the system recycles up to 100% of the water in each car wash in its most advanced version and claims it is the first biological cleaning and recycling equipment capable of treating 100% of the water from the vehicle's exterior wash and obtaining the highest quality for its later reuse in all wash stages, including osmosis in the final finish, where fresh water is traditionally used.
Based on MBR (Membrane Bioreactor) technology, the equipment achieves optimum water quality resulting from the vehicle wash, removing solids, 99% of bacteria and viruses, and reducing organic load and presence of detergents.
Istobal says it achieves maximum use of water in the car wash sector with this equipment by being able to feed the whole wash bay with treated water, achieve zero discharge with a 100% recycling rate and avoid fresh water consumption at the final wash stage.
The company claims the innovative water recycler saves on average 220 litres of water per car wash (1160 per truck wash) by reusing 100% of the water. It is particularly recommended for recycling in high-pressure wash centres where the quality of recycled water must meet very high-quality parameters when in contact with the end user.
The new Ultra Filtration Biological Recycler is described as a modular, versatile and compact unit that is easy to install. It is also a fully automated, connected recycling system that allows remote monitoring for better maintenance; and features a touch-screen control panel for flow and pressure control, error control, display of accumulation tank and chemical levels, as well as recycling rate, among other features.