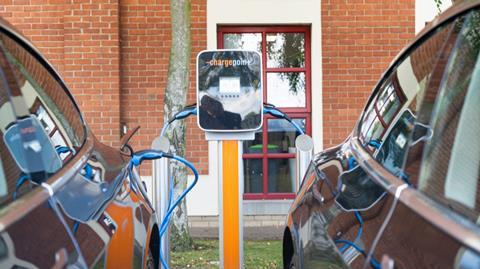 A fully automated and managed system to supply, install and manage all aspects of the EV charger process for fleets has been launched.
Fleet Fix has been designed to ensure the progression to EV fleet charging is as seamless and efficient as possible.
Developed by landscape construction and maintenance contractor Ground Control, the bespoke system has undergone field testing and is already used by national organisations who have started the transition to an electric fleet.
The platform allows fleet and business managers to remotely monitor and track every part of the supply and installation process, including notification of readiness for vehicle delivery by the fleet provider.
Once completed, the dashboard also offers additional functionality including asset management, charging analytics and reporting of the vehicle fleet.
"As we emerge from lockdown, it's more important than ever that transition to buying or leasing EVs doesn't disrupt business operations, said Andy Gray, EV charging lead at Ground Control.
"Key to this will be the efficient installation of charging infrastructure – both at the workplace and at home – along with the ability to support a variety of charging needs in the field.
"Fleet Fix was purposely designed to address the biggest hurdles facing businesses and fleet managers – issues such as the home charging of vehicles, reimbursement of home energy costs for charging their EV, integrated solutions for depot charging and the ability for drivers to use the public charging networks when needed.
"Over the past three years, we've been delivering around 200 tailored EV charging installations a month. Our process exceeds regulatory requirements and we've received 'World Class' ranking in our NPS customer satisfaction scores."
The platform's EV HUB provides users with complete visibility to monitor and track the installation process. Once completed, the HUB allows for analysis and management of energy consumption and usage. Vehicle drivers are given access to an App for the location of chargers, an RFID Electric Fuel Card to use selected public chargers that can be linked to the individual or vehicle.
All charges can be billed back to the organisation or department, allowing for detailed analysis of the time and date of each charge provided and the tracking of costs. The system can be used in conjunction with Fleet Fix Home, Workplace and On Route with roaming partners that include Instavolt, Osprey, GeniePoint, Chargepoint Scotland and Source London.
"Fleet Fix is the perfect solution for companies that are looking at managing a large-scale roll out of EV charging facilities," said ground control managing director Jason Knights.
"It delivers bespoke solutions for each user, it eliminates the need to vet and appraise multiple EV charging manufacturers, and it takes away the pain of processing vehicle home charging costs for employees."