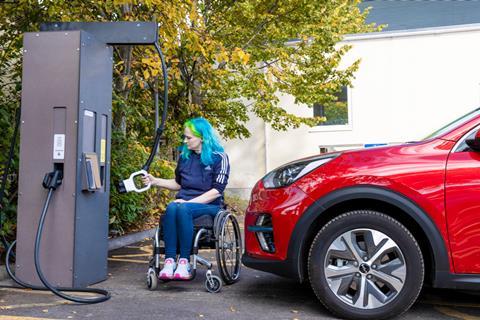 A new British standard has been launched to ensure that EV chargers are accessible for disabled people, together with guidance developed with input from disabled users.
Work on the standard began when research by disabled motoring charity Motability showed many disabled people found current designs of EV chargers difficult or impossible to use.
In response to these challenges Motability and the UK government formed a partnership to co-sponsor PAS 1899:2022, a new accessibility standard for public EV charging points developed by BSI, in its role as the national standards body (NSB).
Through this partnership, Motability awarded Designability – a charity which specialises is developing solutions to help disabled people live with greater independence – with grant funding to explore electric vehicle charging solutions for the benefit of disabled drivers.
Designability carried out research and user testing working with disabled people to understand the challenges with current EV charge points and to develop freely available design guidance for manufacturers, installers, providers and site owners of public EV charge point infrastructure to ensure accessibility for all users.
Additionally, Designability sat on the steering group for PAS 1899:2022.
The new national standard was launched by BSI, together with free online Design Guidance from Designability, which can be accessed by individuals and organisations looking to ensure their design and roll-out of EV charging delivers what good inclusive design should look like.
"We strongly believe no one should be left behind in the transition to electric vehicles." said Catharine Brown, CEO of Designability. "All disabled people should be able to live the life they choose, with greater independence, and feel empowered and included in everyday life.
"This is a crucial time for us to ensure public EV charging it is the best it can be, and accessible for all. The standard positions the UK as world leading in this area. We are really excited about the future of public EV charging and how it will help disabled people to feel included, listened to and enable them to play their part in the transition to electric vehicles."
Keir Haines, senior product designer at Designability, added: "We conducted practical research and design activities directly with disabled drivers and passengers, to understand how the public charge points are failing disabled people. We then explored, with them, what accessible design solutions might look like.
"Designers, manufacturers, installers, local authorities, landowners such as supermarkets, and anyone that might have an EV charge point on their premises are key in terms of ensuring that the charging solutions are accessible to all. If these types of people and organisations are demanding good accessible design for all, it's the perfect starting point to ensuring that everybody, including disabled people, have a great experience of charging in public.
"In order for those organisations to have a better understanding of what accessible public charging looks like, we produced the Design Guidance. We want the guidance to act as inspiration for industry. Containing lots of clear, concise information, images and videos to illustrate the guidance, it looks at areas such as; information and signage on where to find the chargers and how to use the charge points, lighting the area around the charge points, size of parking bays to allow enough space around the vehicle, clear access to amenities like toilets, plus much more such as cable and socket types, along with many design examples from the prototypes we developed as part of the process.
"Throughout the online design guidance there are also links to the PAS 1899:2022, helping to give a clear understanding of what accessible public EV charging could look like now and into the future."
Barry Le Grys, chief executive officer at Motability, said: "Motability's research has shown that half of disabled people will be reliant on public EV charging by 2035, yet they face a host of problems using existing public chargepoints. As the UK transitions to net zero we want to ensure that EV charging is accessible to all. This new free design guide, grant funded by Motability, is a fantastic resource that will help providers develop new infrastructure at pace which is fit for the future of travel."
Scott Steedman, director-general, standards at BSI, said: "This new standard will help ensure that charging point providers and procurers can anticipate and remove any obstacles that could prevent a user from making full and independent use of the charging point. No-one should be left behind as we transition towards a net-zero economy, and by ensuring that as many people as possible can make use of electric vehicles, we increase the UK's chances of reaching ambitious net-zero goals as well as ensuring that the transition is one that is just and inclusive. Throughout this transition, BSI will continue to convene industry, government, research groups, and consumers to create positive change for society."