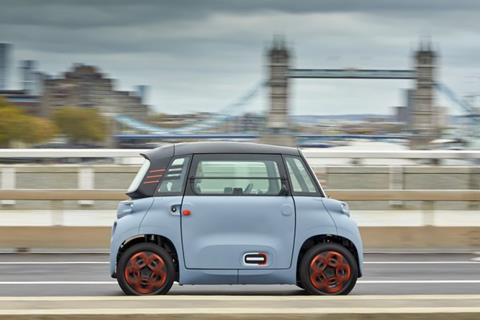 Citroën UK has revealed pricing and specification details for its tiny electric vehicle, the Ami ëlectric quadricycle, and its light goods variant, My Ami Cargo.
Although it looks like a very small car, has a steering wheel and a sunroof, and the passenger version has two seats and a heater, under British regulations it is classified as quadricycle.
The vehicle is just 2.4m long and 1.39m wide and is only available with left hand drive.
All versions of the Ami feature a 6kW electric motor, allowing it to reach a top speed of 27.9mph, and a 5.5kWh battery that gives it a range of up to 46 miles. A charging cable is built into the passenger door frame, which attaches – using an adapter – to a Type 2 connector, allowing a full charge to be completed in three hours.
Priced from £7,695, standard specification includes a digital speedometer, LED front and rear lights, a panoramic glass sunroof and a USB charging port.
For an extra £400 customers can enhance their Ami by adding one of three colour packs – orange, blue or grey – that are designed to be fitted at home, and higher trim versions are also available.
For businesses carrying out short distance or last-mile deliveries, the all-electric – My Ami Cargo – is offered in a single specification, priced at £7,995. In place of the passenger seat, My Ami Cargo features a modular storage area that can be configured for a range of business needs. This consists of a modular upper surface providing a mobile office layout, a divider between the driver and cargo areas, a modular cargo floor with two positions, and a lidded box in the rear creating 260-litres of storage space. Coupled with the interior storage already present on-board, My Ami Cargo offers a total load capacity of 400-litres.
Eurig Druce, Citroën UK's managing director, said: "I'm thrilled that we're able to announce UK pricing and specifications for the Ami 100% ëlectric and My Ami Cargo. These exciting new quadricycles showcase the way the Citroën brand brings innovation, electric mobility and clever design to the widest possible range of people, offering customers a radically different take on urban transport. What's really exciting is that we are launching Ami in the UK due to huge demand from the public. It's a perfect example of our 'Power to the People' thinking."
Ami 100% ëlectric and My Ami Cargo will be sold exclusively online, with customers placing their orders through a dedicated Citroën Ami digital platform.
Citroën UK will shortly be contacting more than 2,000 customers in the UK who have already reserved an Ami to convert their reservations into orders.