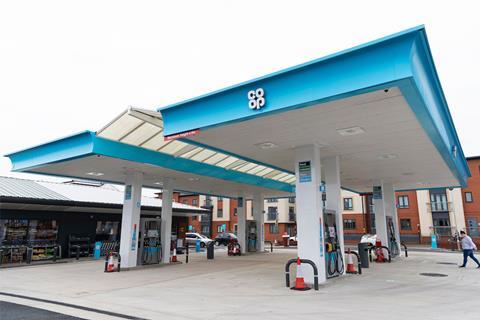 The Co-op has reopened four petrol filling stations with enhanced food stores this week following a £3m programme of works and improvements.
The retailer has overhauled the infrastructure of its petrol filling station located in High Street, Harborne, and extended the food store on site by almost one-third to approaching 3,000sq ft to create a new-look, spacious, store.
The Harborne store re-opens today following a £1.5m programme of works which commenced in early June. It includes Amazon Lockers, hot food, a bakery, Costa coffee express and customer car parking alongside a focus on fresh, healthy produce, award winning wines, ready meals and pizzas, free-from and vegan products, Fairtrade, food-to-go and, everyday essentials.
It opens between 6am-11pm daily, and groceries are also available through Deliveroo, with Co-op the most widely available supermarket on the Deliveroo App.
The extended Harborne site is part of a programme of works which has seen the convenience retailer create more than 45,000sq ft of extra retail space over the last four years from extending stores on petrol filling station sites.
Three other petrol filling stations to re-open this week are in Worksop Road, Aston (Sheffield), which will now be open from 6am-11pm daily, a new-look store and filling station in Horbury Road, Lupset (Wakefield), and Co-op's site in Middlesbrough Road, Guisborough, which has created five new jobs after opening 24 hours a day.
Eddie Jenkinson, national fuels manager, Co-op, said: "The sites all have a great new look and we have worked to develop the range, choice, products and services locally that will create a really compelling offer to serve the community with its fuel and grocery needs, conveniently.
"We are committed to connecting communities and making a difference locally, and to operating at the heart of local life. That is why we also want customers to know that they can become a member of the Co-op, and that they can make a difference to local causes every time they swipe their membership card when buying own-branded products."