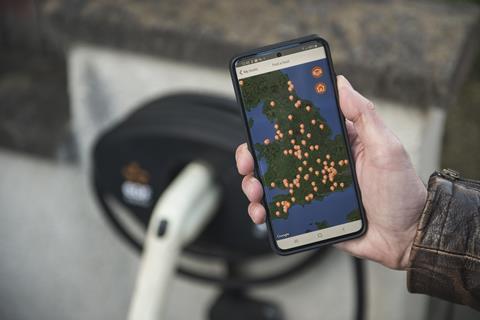 Co Charger, which claims to be the UK's first dedicated electric vehicle community charging scheme, has announced the launch of a funding round, via the Ethex positive investing platform, to raise £250k to grow its shared mobility initiatives.
The share offer will allow people who are keen to support the UK's transition to sustainable transport to invest in the tech organisation, via a share offer, with investments being eligible for Enterprise Investment Scheme (EIS) tax relief.
Launched in 2020 (and affiliated with the Co Cars family), Co Charger has developed an app that enables people who cannot charge a vehicle at home, to do so within a short walking distance of their home. Their platform allows EV owners who have a charge point at home to rent it out to people in their neighbourhood for an agreed price, encouraging the uptake of EV purchase.
Since the launch in November 2020, the company has grown rapidly, adding 3,700 users on to the platform, with targets to increase this to more than 500,000 by 2025. As part of this goal, Co Charger wants to facilitate a reduction in CO2 emissions by over 100,000 tonnes by the end of 2022.
Co Charger describes itself as an "environmentally and socially responsible company", with an aim to help create greener, calmer, more connected towns and cities by tackling one of the major barriers to EV uptake in the UK - the issue of charging. 
Since its formation, the company has sought out opportunities to partner with businesses and political groups to further this goal. As part of the Action Net Zero campaign, Co Charger has partnered with Good Energy, Right Charge, Elmtronics and TLT to encouraging a widespread shift to sustainable transport in Bristol as part of a push to reduce air pollution.
Funds will enable Co Charger to recruit new staff and undertake technical development and marketing that is needed to increase their user base and help more people to choose sustainable transport.
Investors in the project will be supporting Co Charger to scale their platform and accelerate EV adoption. Minimum investment amount of £1,000. Capital at risk and returns not guaranteed.
Joel Teague, CEO of Co Charger, said: "Since last November we've made major strides towards our goal of supporting a transition to electric vehicles. Alongside our partnerships and increasing numbers of sign-ups to our platform, we continue to see a steady increase in demand for electric vehicles and their charging points. Coupled with this week's news regarding the UK Vauxhall plant's electric vehicle plan, we can only see this market continuing to grow, so the time is right to grow our own business in preparation."
Lisa Ashford, CEO of Ethex, said: "As we see more and more electric vehicles appearing on UK roads, easy-to- access and affordable charging will continue to be a growing issue. With this in mind, we're delighted to be supporting Co Charger's ambitious growth plans to help advance electric vehicle adoption in the UK through its innovative, digital approach to facilitate charge-point sharing."