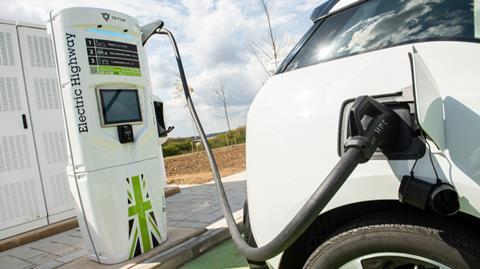 Ecotricity has completed the sale of its Electric Highway national charging network for electric cars to Gridserve.
The Electric Highway was established in 2011 and since then has developed from 7kW chargers to 350kW devices, which are capable of providing 100 miles of charge in around 5 minutes, while the typical range of a car battery has grown from 80 miles to more than 300.
Gridserve, which opened its first all-electric forecourt in Essex in December and plans 100 over the next five years, is ramping up its investment in the Electric Highway with the replacement of all the existing pumps on the network with new technology that features all the latest advances – including contactless payment.
Last month, the Electric Highway opened the first high-power charging facility on the country's motorway network – at Moto's new flagship Rugby services – which feature 12 of the new 350kW chargers.
The Electric Highway has plans to rollout its high power chargers on every Moto site, with 28 Moto sites set to have ultra-rapid chargers by the end of this year. The aim is to have all Moto services with at least six ultra-rapid chargers by 2023, as part of a substantial long-term investment programme, and also includes an upgrade to all existing 50kW chargers by the summer 2021.
Following the blueprint of the new Rugby site, Moto, together with Gridserve, is planning a further 24 high power charger locations at Reading, Thurrock, and Exeter by the end of 2021.
Dale Vince, founder of Ecotricity, said: "We've reached an interesting point in the electric car revolution. Exponential growth is just round the corner, while the technology for charging has evolved into one ruling standard, offering charging speeds that are almost on par with fossil powered ones, where you top up once every week or two.
"At the same time, the Electric Highway needs a growth spurt to make sure it stays ahead of driver demand and continues to play its key role as the network that delivers more miles a year for UK drivers than any other.
For this, the Electric Highway needs an owner with access to serious funding and real commitment to the cause,m and I'm delighted to have found the ideal company in Gridserve to hand the baton to."
Toddington Harper, CEO, Gridserve, added: "It's a real honour for Gridserve to have been chosen by Ecotricity as the organisation to take the Electric Highway forward in its next phase.
"Our purpose is to deliver sustainable energy and move the needle on climate change, and the upgraded network will provide the conference for millions more to make the successful transition to electric vehicles in the earliest possible timeframes."