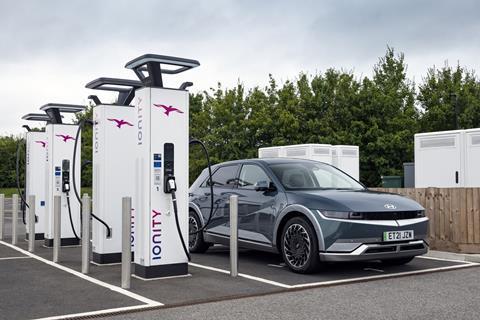 Motorway services operator Extra MSA Group has completed the installation of a network of high-power charging stations for electric vehicles (EVs) across all of its sites.
The project has been carried out in partnership with Ionity, which is continuing to increase the number of high-powered electric vehicle charging points across Extra MSA Group's MSA service areas and is on track to deliver six high-powered chargers at each site ahead of the Government's target of 2023.
The new Ionity charging stations at Extra MSA Group's MSAs are among the highest-power facilities available on the motorway network in England, geographically spread from Cullompton in the South, to Leeds Skelton Lake in the North.
Ionity in conjunction with Extra MSA Group has already installed 38 charging points with a high-speed charging capacity of up to 350kW across all eight of its MSA locations, with more to follow at existing and proposed new MSA developments.
Andrew Long, CEO at Extra MSA Group, said: "Technology is rapidly advancing and Extra MSA Group is delighted to be embracing this, working in conjunction with Ionity which is successfully delivering some of the highest-powered charging stations on the motorway network. At Extra MSA Group, we are committed to providing all road users with a safe environment to take a break from their journeys, rest and refuel in high quality, comfortable facilities. Our work with Ionity further enhances these overall objectives."
Andreas Atkins, country manager UK & Ireland at Ionity, added: "Ionity's continued partnership with Extra MSA Group demonstrates our commitment to drive forward the transition to electric mobility. Our state-of-the-art high-power charging technology will enable drivers to travel hassle-free across the country and charge their EV in the time it takes them to enjoy a cup of coffee at the Extra facilities. Serving up to 350kW charging capacity, our chargers work rapidly using 100% renewable energy - making for not only emission-free but carbon neutral driving and the installation of these in a network that connects drivers right across the country will make for a future of reliable journeys and quick stops for sustainable vehicles."