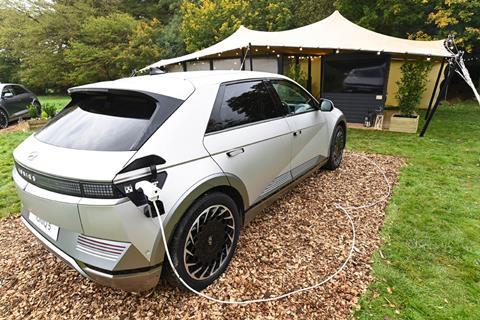 What is claimed to be the world's first car-powered hotel has opened in Essex for a two-week period.
Hotel Hyundai is curated by broadcaster and critic Grace Dent, and launches as research commissioned by Hyundai found that nearly half (46%) of respondents say that sustainability and the environment are more important to them now compared with five years ago when choosing holiday accommodation.
Grace Dent said: "I hope this two-week pop-up hotel is just the start for this concept of a car plugging in and powering a luxury experience like this. I'm predicting that guests will be hoping that this amazing hotel and the full experience it offers might be here again in 2023."
Hotel Hyundai is centred around a luxury cabin and is claimed to offer a guest suite, bar, restaurant and cinema
Ashley Andrew, managing director, Hyundai Motor UK, said: "Our award winning Ioniq 5 is able to power Hotel Hyundai using its V2L feature, where an adapter from the car provides a socket which domestic appliances can be plugged into. The whole experience demonstrates the practicality of this pioneering technology, and we hope the concept inspires more people to go off grid."
The V2L feature supplies AC power (230V/50Hz) up to a maximum of 3.6kW (or 15 Amps) power consumption.