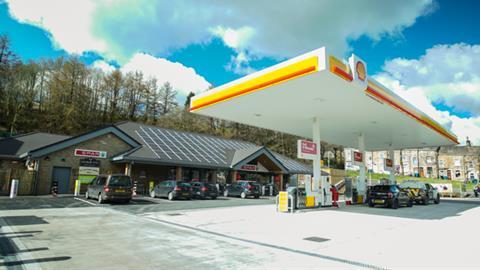 James Hall & Co has added a 43rd forecourt to its retail estate with the launch of a new site in Bacup, in Lancashire, following a £3m investment.
The site consists of a new 3,000sq ft Spar store and Shell forecourt with six fuel pumps, a jet wash, an ATM machine and customer parking.
It is open between 6am and 11pm seven days a week, and has created 30 jobs.
James Hall & Co is Spar's primary wholesaler and distributor for the North of England, and the new site takes the number of company-owned Spar stores to 154, and it is its 43rd forecourt.
The site, the former Broadwater Hall on Burnley Road, was acquired by James Hall from Euro Garages, after it gave up on plans to develop a forecourt scheme.
Euro Garages acquired the site in April 2017 and first applied to build a five-pump petrol filling station, but was turned down on the grounds of "poor design and an incongruous palette of materials".
A second application addressed these issues and won approval in March 2018, but a number of conditions were attached. Euro Garages applied for the discharge of several of the conditions, but not all of them were successful, and it then sold the site.
There was a family fun day to mark the opening and the Mayor of Rossendale, Cllr Jackie Oakes, cut the ribbon to declare the site open
She said: "I'm delighted to see the site take on a new lease of life after such a long period of dilapidation. I'm amazed how spacious the store is and the range it has inside – I'd forgotten what a large footprint the site has.
"With the jobs it has created, the Spar is now a significant employer in Bacup, and it is brilliant that these jobs are benefiting local people.
"I think the butchers is fantastic, the fresh coffee is really good, and it is a real treat to have a fresh bakery and deli. I will definitely be a regular user of the site for fuel and shopping."
Ahead of the launch, James Hall & Co put the local community at the heart of the opening with sponsorship and contributions.
The 2nd Rossendale Scouts and Brass Band were one organisation to benefit from a donation, and another to receive sponsorship was Bacup Borough Football Club.
Fiona Drummond, company stores director at James Hall & Co, said: "Nurturing Our Neighbourhoods and Passionate About Local are two of Spar's brand pillars, and we have wholeheartedly brought that to Bacup for this launch.
"We've put a tremendous amount into developing this Spar store and forecourt, and we have added impetus to how we have launched the store in terms of community engagement too.
"It has been a very exciting opening weekend – truly one of the best that I can remember – and we have had fantastic feedback from the many customers who have visited the store.
"We are more confident than ever that after a successful launch, it meets the needs of the local community here in Bacup, and it will be a real asset for people in the town."