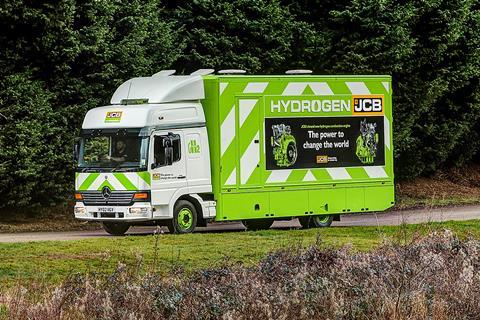 JCB is claiming a major breakthrough in proving the wider appeal of hydrogen combustion technology by installing one of its 'super-efficient' hydrogen engines into a 7.5 tonne Mercedes truck.
The company says the retrofit was completed in just days and one of the truck's first test drivers was JCB chairman Anthony Bamford, who has been spearheading the company's £100 million hydrogen project.
The internal combustion engine used in the truck is the same as those already powering JCB prototype construction and agricultural machines.
Lord Bamford said: "This is a giant leap forward for JCB and the rest of the world because we all have one goal: to reduce emissions. The hydrogen engine we have installed in the truck is the same as those already powering prototype JCB machines, so there is no reason we should not see hydrogen combustion engines in vehicles used on the roads in the future, including cars."
The company says it has already manufactured 50 hydrogen internal combustion engines in a project involving 150 engineers and they now power prototype JCB backhoe loader and Loadall telescopic handler machines. The truck at the centre of the latest project was formerly diesel-powered and JCB says the switch to hydrogen is a breakthrough which underlines that this form of power could represent a much quicker way to reach global carbon dioxide emissions targets.
JCB was the developer of the world's first working hydrogen-powered construction and agricultural machines. Last year JCB revealed another industry first – a mobile hydrogen refueller which provides a quick and straightforward way to refuel machines on site. JCB's hydrogen internal combustion engines are manufactured at JCB Power Systems in Derbyshire.