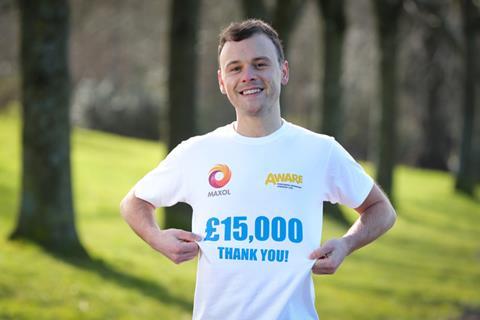 Customers in Northern Ireland of family-owned forecourt and convenience retailer Maxol helped raise £15,000 during the company's annual Christmas Coffee Cup fund raising campaign 2020, with all proceeds going to their local charity partner, Aware.
During the fundraising campaign, which ran throughout November and December, 10p from every hot drink bought in participating Maxol stores was donated to Aware, the depression charity for Northern Ireland.
Brian Donaldson, chief executive officer at Maxol, said: "I'd like to say a huge thank-you to our amazing staff and loyal customers for getting behind our festive campaign and helping to raise the funds that enables Aware to continue its vital work across Northern Ireland.
"The past 12 months have been extraordinarily tough for so many people but with Aware providing help and support there is a way through, and we're delighted to play our part in funding these services."
Karen Collins, chief executive at Aware, said: "Thank you to all the Maxol customers and staff who contributed to the fundraising campaign last Christmas and helped raise such an extraordinary amount of money for Aware. Throughout the pandemic, we've continued to provide our services for the people of Northern Ireland and these funds will go a long way in ensuring we can continue to do so."
Cool FM Presenter and Aware ambassador Paulo Ross said: "I am so proud to have been part of the Maxol Christmas Coffee Cup campaign. Aware is an amazing charity and it is great to see so many people supporting its work across Northern Ireland."