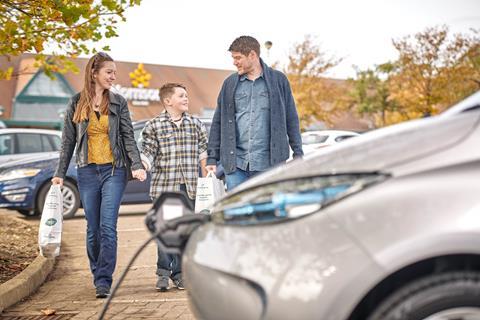 Morrisons has reached a major milestone through its rapid electric vehicle charging network partnership with Equans (the new name for Engie's services-led activity).
In total, the partnership has now enabled customers to save 2,000 tonnes of carbon and has dispensed 2,500 megawatt hours of energy – which is enough to power a vehicle around the planet 350 times.
Powered by Equans' GeniePoint network, there are currently a total of 218 charge points at Morrisons stores across the UK. The chargers are 50kWh rapid charge points meaning that customers can typically reach an 80% charge within 45 minutes – which Equans claims is up to six times quicker than standard charging points used by other supermarkets.
Dee Humphries, managing director of EV Solutions at Equans UK & Ireland, said: "Reaching such key milestones with our ongoing partnership with Morrisons is a huge achievement and evidences both the continued growth within the EV market and the strength of the relationship between our two businesses.
"At GeniePoint we focus on listening to our customers' and their feedback, which is why we are constantly improving our experience for EV drivers and growing our network, to ensure drivers have access to a charge whenever and wherever they need it. The continued expansion of the GeniePoint network with Morrisons will provide even more customers with access to rapid charging facilities in key locations. Supermarkets play a key role in the uptake of electric vehicle use by offering convenient charging, helping to make the transition to EV easier. This will ultimately support the UK's goals to achieve net zero carbon emissions by 2050."
Andrew Ball, fuel & services manager of Morrisons, said: "We know customers don't want to spend hours waiting for their cars to charge, which is why we've made the decision to install the next generation of rapid chargers. It's important that we continue to offer our customers the convenience of charging their EVs as they shop or eat with us. This summer, whether they're hitting the coast or visiting the beautiful countryside, customers can take comfort in knowing they are only ever a short distance from our charging points."
As part of the ongoing partnership, a roll-out of rapid GeniePoint charging facilities at Morrisons stores in Scotland has begun.