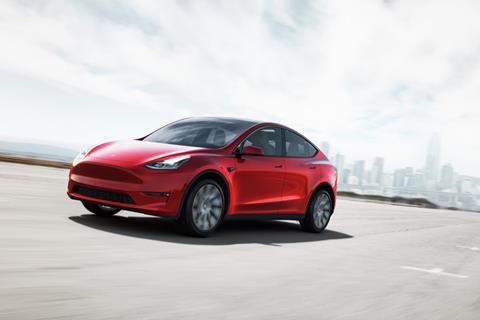 Battery electric vehicles have hit a new milestone with more than 500,000 on UK roads, but car makers are blaming a shortage of components for depressing overall sales of new cars.
UK new car registrations fell by 24.3% in June, according to the latest figures released by the Society of Motor Manufacturers and Traders (SMMT). The month saw 140,958 new vehicles registered, the weakest June performance since 1996.
Battery electric vehicles (BEVs) continued their growth streak, however, with a 14.6% increase in volume, as market share continued to grow, reaching 16.1%, up from 10.7% a year ago.
However, plug-in hybrid vehicle (PHEV) uptake fell by 4,425 units to take a 5.5% market share. In total, plug-in vehicles comprised more than a fifth (21.6%) of new cars joining the road in the month. All other powertrains saw declines in registration volumes and market share apart from hybrid electric vehicles (HEVs) which, despite a 1,172 unit fall, increased their market share to 10.6%.
Sales of diesel cars were down 46.7% on the year to 8,003, with a market share of 5.7% and petrol cars maintained their dominance of the market despite a 28.2% drop in sales to 62,005, taking a 44.0% share of the market.
The Vauxhall Corsa maintained its position as the best selling model in the UK with sales of 5,014 in June, with the Tesla Model Y BEV recording the second highest sales of 4,194, although it is only the tenth highest seller for the year to date.
SMMT chief executive Mike Hawes said: "The semiconductor shortage is stifling the new car market even more than last year's lockdown. Electric vehicle demand continues to be the one bright spot, as more electric cars than ever take to the road, but while this growth is welcome it is not yet enough to offset weak overall volumes, which has huge implications for fleet renewal and our ability to meet overall carbon reduction targets.
"With motorists facing rising fuel costs, however, the switch to an electric car makes ever more sense and the industry is working hard to improve supply and prioritise deliveries of these new technologies given the savings they can afford drivers."
RAC EV spokesperson Simon Williams commented: "While the global chip shortage is still hampering overall demand for new vehicles, June's figures mean that the total number of battery electric cars on the roads has surpassed the half-a-million milestone – a ray of light in what is otherwise a gloomy set of new vehicle registration figures.
"Moreover, sales of all plug-in vehicles including plug-in hybrids (PHEVs) now account for one-in-five registrations which clearly shows that desire for electrified vehicles shows no signs of waning, with the record petrol and diesel prices no doubt having an effect. However, sales of PHEVs appear to be down on 2021, which could be a sign that drivers are biting the bullet and jumping straight into an all-electric vehicle rather than using PHEVs as a stepping stone."