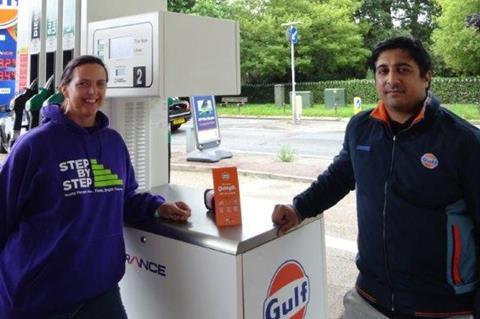 With grass roots organisations and local charities struggling for funding following the pandemic, Oomph, Gulf Retail's award-winning forecourt loyalty platform and the collective efforts of staff and customers at participating Gulf forecourts are providing a welcome boost to many across the UK.
Recently, Farris Sultan of Aldershot S/Stn presented a cheque for £1000 to Step by Step, a charity committed to support young homeless people. Its Aldershot Foyer provides shared accommodation, supported independent flats and specialist services to help address immediate needs and work towards independent living. Collecting the cheque on behalf of Step by Step was Jane Gould, community fundraising officer.
"A big thank you to Gulf and our friends at Aldershot Service Station for their generous support," she said. "Government funding enables us to put a roof over the heads of our young people, but donations are absolutely vital to allow us to provide the all-important life skills needed to help them build their lives again and establish a meaningful role back in society. If we can give hope and help them develop structure in their lives, it opens a path to independent living. "
Farris, supported by colleagues, is no stranger to helping local homeless people including providing clothes, food and encouragement.
"Alleviating homelessness is something I am passionate about. Step by Step is well run and a hard working charity within our community. Our customers already enthusiastically fill the collection boxes we have on site and we were delighted when our nominated charity was chosen by Gulf. It demonstrates just how versatile Oomph is, enabling forecourts like ours to forge even closer links with good local causes and grass root organisations. It provides a welcome boost to the charity and for our customers and our staff."