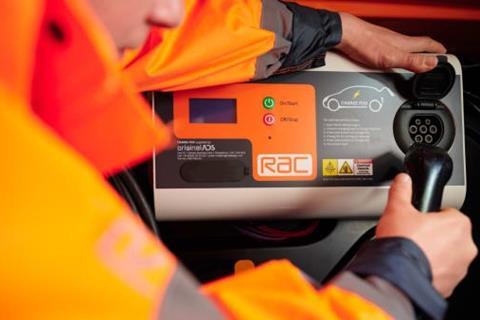 The RAC has signed an exclusivity agreement with the British manufacturer of its EV Boost technology – which is described as the equivalent of a fuel can for electric cars.
The RAC worked with specialist engineering company Original ADS to design and develop the lightweight and compact van-mounted charger capable of getting 'flat' EVs to the nearest working chargepoint or home rather than having to be picked up and recovered on a flatbed truck.
The deal means dozens more RAC patrol vans will be fitted with EV Boost units in the coming months.
RAC EV Boost was launched as a 3.5kW charger in April 2019. Now with two years of use in the field, the RAC and Original ADS have succeeded in producing a new 5kW unit capable of faster charging, speeding up the time it takes to revive a flat – or seriously depleted – EV at the roadside. Development work is also under way a 7.5kW charger which the RAC and Original ADS believe will offer the best possible balance of cost, efficiency and charging time at the roadside.
As a result of the exclusivity agreement the RAC plans to have 200 vans equipped to boost out-of-charge EVs by the end of 2021, with a further 120 coming online in 2022 – meaning one in every five RAC patrols vans will be able to give electric vehicles an emergency roadside boost.
Powered by a generator driven by the van's engine and weighing just 35kg, RAC EV Boost is a significant development in EV breakdown technology as it avoids the need to use bulky portable batteries. At the size of a shoe box, EV Boost only takes up a small amount of space in a standard RAC van which is equipped with the 500 parts and tools needed for patrols to fix four out of five breakdowns they attend.
RAC chief operations director James Knight said: "We were very proud to be the first breakdown company to launch a solution at scale to help out-of-charge EV drivers, and we're even more delighted to be the only roadside assistance company in the UK that can use this pioneering British-designed technology.
"It means within minutes of arriving with one of our EV customers, our expert patrols can plug in and get the car topped up enough to be driven a short distance home or to a nearby chargepoint. We believe it's faster, more efficient and better for the planet than having to send a big flatbed recovery vehicle or a van full of batteries.
"And, if a customer breaks down in an EV for another reason our patrols have more unique equipment in their vans to help. If they can't fix the fault there and then, they can tow it themselves with our All-Wheels-Up recovery system meaning there's no need to wait for a tow truck. It's like having a flatbed in the back of an RAC van.
"These two breakthrough RAC innovations mean we're ideally placed to be able to help any EV driver, whatever the problem, just at the time the electric car market begins to accelerate at an unprecedented pace. We believe these roadside capabilities will go a long way towards reassuring drivers who are keen to 'go electric' that that we've got them covered should they run out of charge or be unlucky enough to reach an out-of-order charge point. They also demonstrate to our car manufacturer partners and fleet operators just how serious the RAC is about supporting the switch to an all-electric future."
Original ADS commercial director Lauren Saxton said: "We're very pleased to have had the opportunity to work with the RAC on developing a truly world-leading lightweight and compact charging unit for flat or severely depleted electric vehicles. We have forged a brilliantly collaborative partnership which we hope will provide vital stimulation to the take-up of EVs, as knowing help is easily at hand in the event of running out of charge will bring important peace of mind to drivers to make the switch to electric. In short, we believe it will help to ensure 'range anxiety' becomes a thing of the past."