The partners continue its plans for expanding charging provisions
New Electric Super Hub to bolster public charging facilities on M56
Chester's High Power chargers opened on during the main half term holiday week to support the increase of EV traffic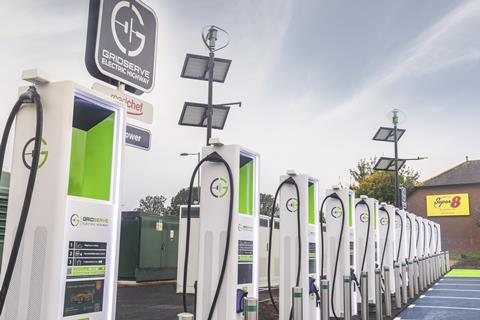 Gridserve and Roadchef have announced their latest Electric Super Hub at Chester services, located at junction 14 on the M56 motorway.
The partners recently announced their plans to expand electric vehicle (EV) charging facilities at Roadchef Motorway Service Areas (MSA) in the UK, which saw the first two Electric Super Hubs launch at Watford Gap North and South (M1) at the beginning of September.
The latest development comes on the heels of Roadchef launching its first Super 8 roadside hotel where customers may need to charge their EVs.
The new Electric Super Hub will have 12 High Power chargers and six AC chargers to provide easy on-site EV charging facilities for hotel customers, allowing guests to charge their vehicles overnight at an inclusive and affordable price.
Consisting of a minimum of six 350kW-capable chargers each, other locations that will soon feature Electric Super Hubs include Bothwell (M74), Annandale Water (A74(M)) and Sandbach (M6). The plans are in place to urgently deliver on an expanded charging network as part of the Roadchef's wider sustainability focus and agenda to support Britain's journey to be safer and greener.
To make it as easy as possible for customers to charge their EVs, all Gridserve Electric Super Hubs feature both CCS and CHAdeMO connectors, accept contactless payment and provide real-time status updates to a myriad of popular EV charging maps. The chargers are powered by 100% net-zero carbon energy from the company's pioneering hybrid solar and battery farms, supporting Gridserve's purpose to move the needle on climate change.
Toddington Harper, CEO of Gridserve, said: "We are thrilled to open another Electric Super Hub with Roadchef. This is a great example of the right chargers in the right place. We have installed the high-power chargers for those needing a quick top-up so drivers can get make on their journeys quicker; while AC chargers provide easy charging for those drivers who can charge overnight while they rest. We look forward to continuing our work with Roadchef to provide a reliable, quick, widespread charging network together."
Paul Comer, director of EV implementation at Roadchef, said: "With the recent success of launching our first Electric Super Hubs at Watford Gap North and South, we're excited to continue our Super Hub EV journey at Chester. As more EVs take to the road, it's essential for our facilities to be expanded and upgraded to meet this demand, especially for our customers who stay at our new Super 8 hotel and are looking for overnight charging options. The roll out of our Electric Super Hubs with Gridserve is a step in the right direction to achieve our goal to support Britain's journey to be safer and greener."
Roadchef currently has over 40 Gridserve medium power chargers and 24 standalone AC chargers across 29 sites. Further EV charging expansion will be announced as plans accelerate into 2024.