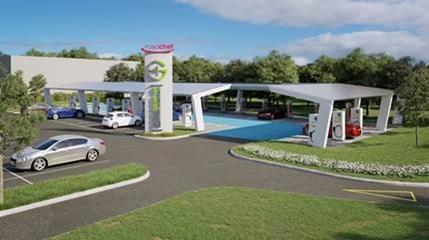 Motorway service area operator Roadchef – in partnership with Gridserve – has significantly upgraded the electric vehicle (EV) charging points at its sites across the country, having seen demand surge by five times the average daily usage over the summer.
A total of 41 charging points across the company's network have been updated to Gridserve rapid chargers with contactless payment.
Roadchef is committed to continually upgrading EV charging facilities across its network, with plans to build charging hubs with ultra-rapid chargers up to 350kW. At present, the company is working with a number of partners to achieve this as quickly as possible.
Mark Fox, CEO at Roadchef, said: "Roadchef is committed to playing a key role in a more sustainable future and our upgraded EV charging facilities are very much a step in the right direction.
"Over the last year there has been a huge upturn in EV ownership so it's essential that there is a solid charging network in place on motorways to enable consumers to travel longer distances, worry-free.
"This recent upgrade combined with our future EV hub plans and our commitment to reducing our carbon impact means we are fast becoming a destination of choice for the sustainable-minded consumer."