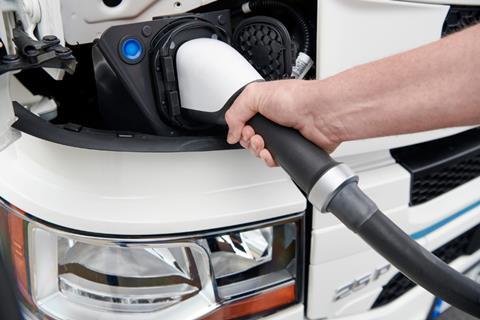 Scania has launched its first series production range of electric trucks. The vehicles in the new range – a fully electric truck and a high-performance plug-in hybrid – focus initially on urban applications, including distribution to retailers.
"It is with a great deal of pride that we announce the start of Scania's long-term electrification commitment," said Scania's president and CEO, Henrik Henriksson.
"Looking ahead, we will annually launch electric vehicles for the entire product range, and we are presently reorganising our production towards that end. Of particular significance is that in a few years' time we will also introduce long-distance electric trucks adapted for fast-charging during drivers' compulsory 45-minute rest periods."
For Scania (Great Britain), UK sales director Vincente Connolly added: "With a proven record in delivering premium diesel and renewable fuel trucks, this launch marks a significant step in Scania's development. Over the coming years, we will continue to develop our range of electrified vehicles for all applications, including long-haulage and construction.
"Electrification of the heavy commercial truck fleet is decisive in reaching the Paris Agreement target of limiting global warning to under 1.5°C. E-vehicles will therefore increasingly become an attractive option and we will, in the initial stages, develop and deploy hybrid and fully electric trucks in partnership with progressive operators who share our ambition and commitment to sustainability."