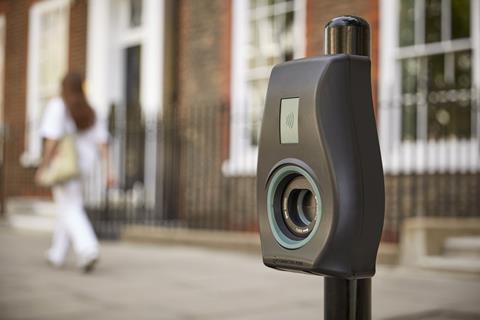 A first-of-its-kind project has been launched in London aiming to demonstrate how affordable and accessible public EV charging infrastructure can be deployed to tackle EV inequality and drive greater EV adoption among communities traditionally under-represented in the EV sector.
Lambeth Council has worked with electric vehicle (EV) charging specialist Connected Kerb to provide charging facilities for residents who do not have off-street parking.
The partnership will provide on-street EV chargers across 11 council estates in the borough to provide easy access to public charging, even for those without off-street parking.
It forms part of the council's wider strategy to work with multiple charge point operators to install more than 200 charge points by 2022, with the aim of ensuring every household with no access to off-street parking is within a five-minute walk of their nearest charge point.
The project has been prompted because residents of urban centres, high-rise flats and council estates are significantly less likely to have access to a private driveway, making it difficult to install home charging. As a result, households which have access to a driveway make up 80% of EV owners, with the remaining 20% owned by those in houses or flats with no access to off-street parking.
At the same time, these communities have the most to gain due to being disproportionately exposed to the highest levels of toxic exhaust emissions and suffering significantly poorer air quality.
Chris Pateman-Jones, CEO of Connected Kerb, said: "People often think electric vehicles are the preserve of a fortunate few with detached houses and driveways, but this couldn't be further from the truth. With running costs much lower than petrol and diesel cars, all communities, regardless of where they live, their social background, or whether they have a driveway or not, have lots to gain.
"Unfortunately, some communities are being failed by a classic chicken and egg scenario. Without high EV adoption, charge point operators won't build public charging, and without reliable charging, why would anyone go electric? We have designed our business model to overcome this and with Lambeth Council, we are delivering a fairer and equitable clean transport future – here and right across the UK."
Approximately a third of residents in Lambeth live on estates managed by the council and the majority of housing in the borough does not have off-street parking.
This means that a large proportion of drivers will have to rely on public EV charging infrastructure. The project is intended to act as a blueprint that can be adopted at scale by other boroughs, councils and cities across Britain to deliver an inclusive and equitable EV transition, serving all members of society, including the 40% of households nationally without off-street parking.
Deputy mayor for environment and energy Shirley Rodrigues commented: "London is leading the way in EVs. The GLA, TfL and boroughs have been working together and have delivered 7,000 points across the city, accounting for 30% of all charge points in the UK – but we must ensure no community is left behind in the transition.
"Equal access to public charging is a key step towards a fair switch to clean transport and vital if we are to meet our ambition of being a zero-carbon city by 2030. Connected Kerb was the winner of the mayor's Civic Innovation Challenge on electric vehicles (EV) in 2018, where they worked with National Grid to successfully trial first-of-a-kind EV charging bays in London. Projects like this are a great example for the rest of London and the UK."
Cllr Danny Adilypour, cabinet member for sustainable transport, environment and clean air at Lambeth Council, added: "As the first London council to declare a climate emergency, we're committed to accelerating the transition to cleaner transport across our borough – particularly by encouraging active travel and public transport. For residents who need to use private vehicles, we recognise how important access to EV charging is to provide the confidence to switch to cars with zero emissions at the tailpipe. Projects like this help us do just that, while also helping us reach our net zero targets and improve air quality on our streets, protecting the health of our communities."
Road transport is the biggest cause of air pollution in Lambeth, accounting for more than 50% of its emissions. As well as installing EV charging, the council is also putting in measures to curb emissions from roads, including encouraging more cycling, increasing public transport use and investing in raising awareness of the dangers of air pollution.
Each of Connected Kerb's chargers will provide a 7kW fast charge, which is suitable for habitual on-street charging where residents are parked for a predictable amount of time each day. Every charge point will feature contactless payment via the Connected Kerb app, with a consistent network and tariff across the sites, enabling fair and equal access for everyone.
Local resident Ajai Ahluwalia said: "Switching away from a fossil-fuelled car was very important to me as reducing my impact on climate change is something I really care about. However, living in a home without off-street parking makes this difficult. Before the installation the nearest chargers were a 15-minute walk away and it wasn't guaranteed that I would be able to get a spot. This was a real nuisance, and I am sure it puts a lot of local people off making the switch.
"The installation of the chargers has had a really positive impact on the estate. I've spoken to neighbours who have made the switch to an electric vehicle because of the chargers going in and they are reassured that they can easily charge outside their flat. The more boroughs and estates this type of project can happen in, the better."
Connected Kerb's technology and business model is designed to be as affordable as possible, to enable local authorities to provide all communities with accessible, affordable and reliable public EV charging. Unlike many public charge points, Connected Kerb's infrastructure has a long-lasting design. The charging infrastructure is located below ground and installed once, with passive chargers that can be easily 'switched on' by adding the above ground charge point to match consumer demand.
This long-term business model means Lambeth will have access to a secure revenue stream to help maintain and expand the charger network. This substantially improves the economics of this type of project, making EV charging affordable to install.
The project was funded in part through the government's On-Street Residential Charge Point Scheme, available to all local authorities in the UK. Through the scheme, 75% of the costs were financed by the Office for Zero Emission Vehicles and the remaining costs were covered by the council.