Easwaran Surean and his wife Sivasakthi took a punt during the pandemic – and bought a second forecourt. It's a gamble that's paid off handsomely for them.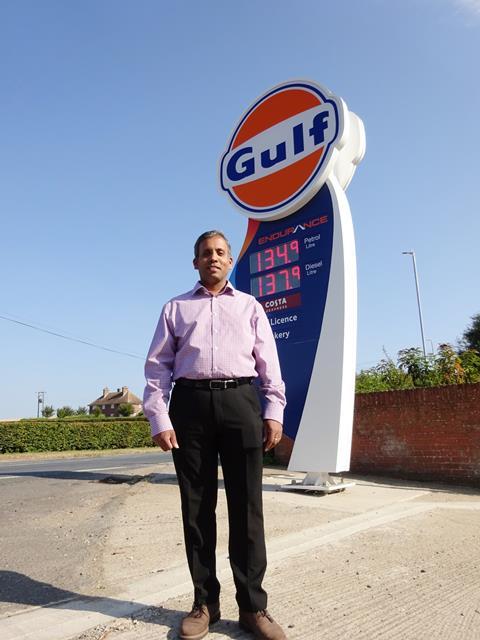 Purchasing a freehold forecourt at the height of the Covid pandemic may not have been ideal timing, but for Easwaran Surean and his wife Sivasakthi it has proved a resounding success. Brooksend Service Station in Birchington on Sea, Kent was introduced to the couple by Gulf Retail area business manager, Niall Taylor, in early 2020 and the sale was completed by August.
"It was essentially a shell of a petrol station that had not seen any investment for over 30 years," explains Easwaran. "Niall knew of my interest and ambition in taking ownership of a freehold forecourt at the right price. Together we could see the potential at Brooksend, even if others could not.
"Niall introduced me to the owner and I knew that with hard work, investment and Gulf's support, the site had a real future. We have worked with Gulf for three years since taking on the very busy Richborough Service Station in Sandwich in 2018. They know our background and have seen our capabilities and they have supported us all the way. We are both now reaping the rewards!"
Easwaran's petrol retailing experience spans three decades, although convenience retailing is his primary business. He owns five convenience stores in the locality, finding success in identifying neglected convenience stores and transforming them into vibrant community stores.
"We are first and foremost convenience shop specialists and we know that for a particular type of shop in a specific location, we have a tried and trusted business model," continues Easwaran. "Our recent experiences of petrol retailing make us eager to grow this side of our business too and we are actively looking, with Gulf, to expand our portfolio. There are significant economic benefits in operating multiple sites in a close geographical region."
Brooksend Service Station, located on the busy A28, comprises a spacious forecourt and several outbuildings. The forecourt has now been remodelled into a four-square layout with new lines, lined tanks and an improved surface. All four grades are available from each new high-speed Petrotec pump, providing customers with a cleaner, faster and more reliable service. An initial investment of £160,000 also included a new back-office system, an increase in shop size by 50% and a refit in collaboration with Premier.
"It has been a transformation both inside and out and our customer base is growing day by day," enthuses Easwaran. "Firstly, the forecourt looks so alive with the new Gulf livery and illuminated canopy trim.
"Our shop may be less than 1,000sq ft but we compensate for the size with clever merchandising, numerous offers that compete with the local supermarkets and well-stocked shelves with plenty of innovation to complement the traditional basics. This summer we introduced American-style F'real milk shakes andin the first week sold over 500. At £3.50a go they immediately justified their prime location."
In a shop that had never taken more than a few hundred pounds a day, Brooksend is already up to £10k a week while fuel sales, which had previously been around 200,000 litres annually, are expected to exceed two million this year. This, despite strong local competition from Shell, BP and the Co-op.
"Premier Stores has been our preferred convenience partner for many years. They support us financially and with the wealth of their experience in convenience retailing. I've not really seen a positive impact from the Tesco acquisition but we did recently receive a visit from a Tesco director, eager to understand how our redevelopment had gone."
Fast new pumps
On the forecourt the fast new pumps and large area for parking means that shoppers and fuel-only customers easily co-exist, even at peak times. Customers are encouraged to participate in Gulf's Oomph loyalty scheme to drive repeat business and drive-up shop sales – average basket is currently £15.
One customer recently won £6k-worth of home cinema equipment in the Oomph monthly prize draw, which has had a positive impact on the Oomph take-up.
In addition, Gulf's fuel card offering enables the site to accept EuroShell and BP Plus fuel cards in-store.
"Gulf's card package brings us additional incremental volume. We are also now becoming a favourite fill-up location for some coach companies and at 500 litres a time, it is very good business. We are now looking at ways to drive up sales of Endurance, Gulf's performance grades. They currently account for around 6% of sales, with Gulf's help we believe we can double this.
"We have 15 forecourt staff, all local people ranging in age from 65 to 17. My wife takes charge of HR and together we reward well and treat staff as family. We have evenings out, and use technology to reduce the day-to-day stress such as easy-to-use systems and driver-controlled deliveries.
"Our forecourts are just six miles apart and we have the same set-ups on both to allow staff to work on either site without any unnecessary complications.
"In a retail environment a smile can be just as valuable as the service you provide and that is why we want our staff to enjoy coming to work. We officially open from 6am to 11pm but Sarah, who runs the morning shift at Brooksend, can often be spotted on site preparing hot food from 4am. Her reason, apart from not sleeping well, is that she does not want her regular London commuters to leave Birchington on an empty stomach. She really is an incredible woman, and we are very excited about the future," concludes Easwaran.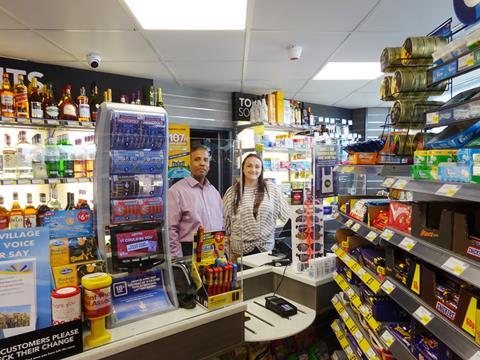 "We have found the ideal business partner in Gulf; they understand and respect us and we look forward to growing an even stronger and more profitable multi-site business with them.
"The Birchington 10-year plan will see road changes to our advantage and an additional 1,000 homes built in the vicinity. For Gulf and ourselves it has been an ambitious project that required a fair amount of goodwill from both parties and a strong conviction that with our collective experiences, we had the ability and resources to turn this site into a success story. And together we did!"