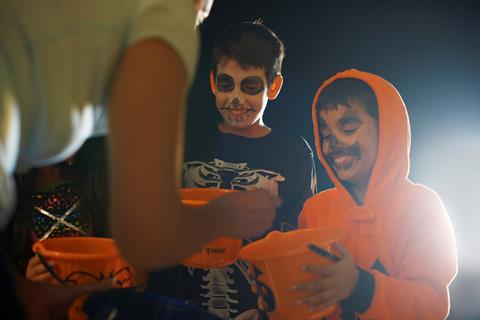 This Halloween (October 31) may be scary for some retailers as it will be the first one since the new HFSS (high in saturated fat, salt and sugar) regulations come in on October 1. This means convenience retailers with more than 50 employees and relevant internal floor area of over 2,000sq ft cannot display HFSS products within certain distances of checkouts and queuing areas, end-of-aisle units and store entrances. So, pumpkins can be piled high in these areas (as long as they are not a trip hazard!) but sweets for trick-or-treaters can't.
Despite this, new research from confectionery firm Perfetti van Melle has found that 23% of retailers will be putting more focus on Halloween this year, with 36% planning to increase their Halloween confectionery range and 22% intending to give it more space.
The research was conducted by KAM Media, who interviewed 200 retailers and 250 consumers. It also found that three out of four (74%) adults plan to celebrate Halloween, the same proportion as 2021, with one in three (32%) intending to go trick or treating. Of those celebrating, 68% are likely to buy sweets or chocolate to give out to trick or treaters, which is a big increase versus last year's 58%.
Obviously with the background of the cost-of-living crisis, parents will be more mindful about value than ever. No, they won't want to stop their children joining in with the fun but they will keep an eye on spending.
Variety packs of wrapped confectionery and funsize bars will be in demand. Although some retailers avoid price-marked packs, they are a hit with consumers, especially those on a budget so it might be worth stocking some.
IRI sugar confectionery sales data reveals that three of the top five Halloween products come from Swizzels. Its Variety bag ranges have recently been rebranded into three lines: Luscious Lollies, Scrumptious Sweets and Curious Chews – all with an rrp of £1.
Specialist confectionery cash and carry chain Hancocks is a great source of Halloween candy with everything from bulk bags - which you can use to fill pick 'n' mix fixtures or to create your own 'mix-up' bags – to pre-packed lines such as Bonds Halloween Mallow Pops and Mallow Skewers.
Seasonal events are always an excuse for a party or small get-together and Perfetti's research found that 32% of consumers intend to decorate their house for Halloween with 25% saying they will wear a costume.
This year Halloween falls on a Monday and you could brighten up everyone's Monday by encouraging staff to dress up in their scariest and most outrageous outfits for the day (or even the preceding weekend). The value retailers such as B&M will be full of cheap and cheerful costumes and props so outfits need not be too expensive – plus you could also pick up some props for your in-store Halloween displays (think large hairy spiders and huge cobwebs). You could also engage with your customers on social media by getting them to post pics of their costumes. It wouldn't take much work; you could offer a small prize for the best one and it would generate lots of interest and fun – just what we need during these scary times!