Taking on his first independent site, Broxbourne Service Station, just as the pandemic took hold, has not dimmed the ambition of Total dealer Prem Uthayakumaran.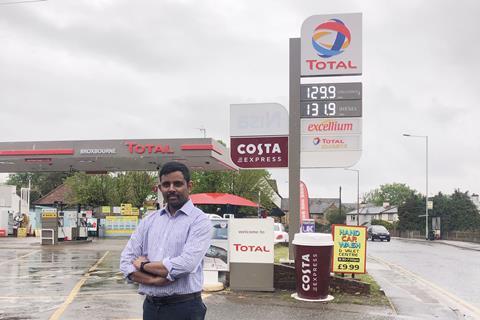 At the beginning of March last year, the charismatic Prem Uthayakumaran was excited to be taking over his first site as an independent retailer.
Driving home in his car, listening vaguely to news about a handful of cases of the Covid-19 virus in the UK, he had no idea that within a few weeks the country would be in lockdown and all his plans somewhat diverted.
He had just taken over the lease of Broxbourne Service Station in Broxbourne, Hertfordshire. The site comprised a service station and convenience store, in a residential area off the busy High Road Wormley A117, between Cheshunt and Broxbourne, just north of junction 25 of the M25.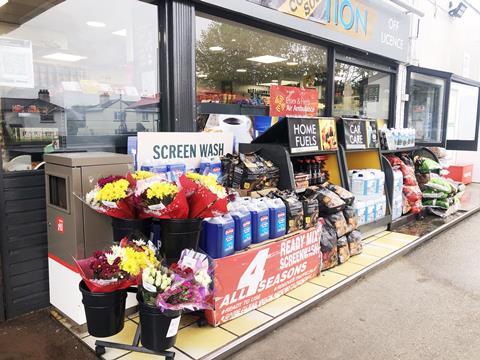 It featured a spacious Esso-branded forecourt with four fuel islands, as well as red diesel, making it popular with agricultural vehicles. The small, Premier-branded convenience store included an off licence, Bake'n'Bite bakery area, chillers and coffee machine. It was all a bit tired, but Prem could see the potential, particularly in the shop, with plans to introduce a wider product range and food-to-go offering: "We have plenty of knowledge in retail and believe forecourts present the best value to grow in the market," he said at the time.
A young and ambitious chap, a pandemic was not the most reassuring start to his dream of being in complete control of his own business, having spent some time looking for the right opportunity, invested his savings and signed on the dotted line for a loan with the bank.
Prem had cut his teeth in the forecourt sector working on a couple of MFG sites as a contract manager since 2015 – Barnet and New Barnet. He had previously worked in Tesco management, having completed a Business & Administration degree at Edinburgh University.
"I learned a lot about the business on the MFG sites, and still have the High Barnet site. But in the long term I didn't want to stay in contract management. My ambition was to have more control, without the uncertainty of other people constantly changing the strategy. I got rich with the experience and the knowledge, but I wanted to get a business and make it my own. A lease was the only way I could do it.
"I had the ambition, I already had the back-up plan. The banks were happy to lend me money because I had built up a good record with them. I had been looking for the right opportunity for a couple of years, and when this site came along I felt it was the right one, in a brilliant location.
"I had never thought about a pandemic in my plans, and driving back home after work last March I was worried, and decided it would be pointless to keep the site open for 24 hours, the next four weeks I closed it between 11pm and 6am."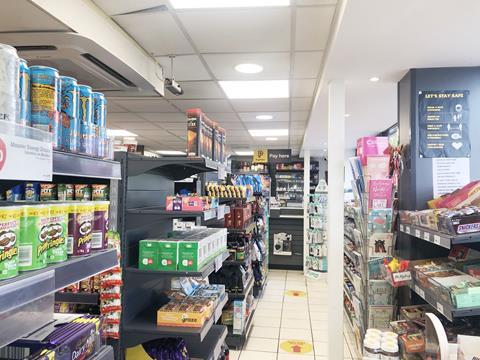 However, he soon found out that there was still sufficient demand to stay open night and day. With the site's proximity and easy access to the M25 and A10, there was plenty of commercial traffic, including trucks, which are easily accommodated on the forecourt. There are also plenty of farms in the area, hence the red diesel pump. It all helped to keep things ticking over. He did some tweaks in the shop, adding new chillers and shelving, and found that footfall grew as more local people walked to the site.
People came for the usual things – milk, bread but especially pet food. Car care is also a big seller. Prem obliged with what his customers needed, with service being of utmost importance. Prem trains his staff that customers "should feel they're visiting one of their own", and to build up conversation with them. "Even though it's a forecourt, we see the same faces regularly – people want us to look after them," he says. "You could paint as often as you like and put a rainbow up, but if the customer is not happy with the service they've received, they're not coming back."
The next big challenge was another first for Prem – negotiating a fuel deal. "Initially, I really wanted to continue with Esso, as it's a strong brand," says Prem. "But the volume includes 25-30% fuel card customers which doesn't bring a lot of profit. I also asked Esso if they could do something for the business, following negative Google reviews of the site.
"I wanted a good deal for the next five years, and something to help bring custom to the site. Texaco came up with a better deal, then Harvest Energy came along and I wasn't interested at all. But then Harvest offered me the Total brand. They seemed very interested and came to see me three times to negotiate. They had only opened one Total site at the time – in Thirsk, North Yorkshire.
"I visited the site and really liked the look of the branding. It stands out from the other petrol stations. It was my first fuel deal, so I was a bit daunted. But Total were very transparent. All the charges were laid out very clearly. I could see what it was going to cost to re-brand the site.
"I had a lot of time to make the decision, but I was really panicking," says Prem, but he went for it, and is really pleased, as are his customers.
"It has really brightened up the site, giving it a new lease of life," he says. "At night it looks brilliant with the LED lighting. The pole-sign looks good as well. Speaking to my customers, not many people realised Total had exited the UK in 2012 and then came back. They still think it's a UK brand. There is a nearby site that was a Total site for years, so the locals remember that. It's still a strong brand."
Now the focus is on the shop which is in the process of being turned into a smart Nisa store, making the best use of all the space. Shop sales have doubled, and footfall continues to grow. Prem really likes the forecourt business and being a local business helps to build up custom.
Needless to say, having survived his first year as an independent in a pandemic, Prem is already thinking about how he can acquire another site!