As Park Garage Group completes the acquisition of 27 EG Group sites, operations director Hemant Tandon reflects on an exciting opportunity for the company.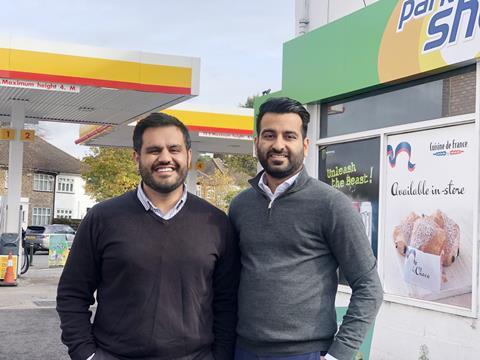 When EG Group was obliged to put 27 sites up for sale to satisfy CMA requirements following its acquisition of Asda, making a bid for them was not initially on the radar of Kent-based Top 50 Indie Park Garage Group.
"We'd let the relevant people in the industry know that yes, we would like to expand with the right sites, but initially we didn't look at it - we didn't think it was on our horizon. We came to the process late on," explains Hemant Tandon, operations director of the long-established, close-knit family business, which until the EG Group deal, had around 50 sites, its most recent acquisitions being Tudor Autos in 2017; then Harborne in Birmingham and Herringthorpe in Rotherham in 2020.
PGG was established in 1975 by Hemant's grandparents Mandan and Sneh Tandon; then his father Sunil and uncle Balraj took over in the 1990s. Hemant came into the business almost six years ago and took over the role of operations director when his predecessor Miles Harvey retired in March 2018. He had pursued his own career initially, but having grown up with fuel retailing in his blood, it was inevitable he would join the family firm. His cousin Manoj (Balraj's son) came into the business as finance and IT director in March 2020. They make a tight management team.
"We did as much due diligence as we could in the short period that we had," says Hemant. "We were very methodical, did the numbers, went through the process that EG Group put us towards, and we put our bid through in the first round."
Within 24 hours PGG had received a congratulatory email confirming its progress onto the next stage. "We then took a flight to Aberdeen, picked up a hire car and saw all the sites in four days," says Hemant. "When we saw them we were almost licking our lips - we could see the big opportunity.
"But we tried not to get too emotional about things. My dad and uncle have the scars of having been through this process before, so while Manoj and I were getting excited behind the scenes, they were very much focused on getting to the next process."
Finance was put in place, which included £75m of funding from HSBC. Hemant believes there is less of a 'queue' for such acquisitions, when looking down the Top 50 Indie list of potential purchasers: "But money isn't the problem, it's who can get past the CMA," he says.
"But of course the money is huge, in terms of you could argue what the value of the sites were, as a package. It depends how you see the value of the forecourt market. All values have shot up.
It's horses for courses. You will pay for what you believe the value is.
"We wouldn't have gone through this process if we didn't think the value and the potential was within the business.
"It's about forward-thinking as well. A lot of these sites are big, and I think a key driver on where our decision was made is that when EV comes into it, we've got to appreciate that the site you need for electric chargers probably have to be the bigger sites - you need the Greggs, the Subways, and more of a shopping option, where people can ponder for 15 minutes, take a bit of time out."
Ultimately, it all fell into place and PGG is now the proud owner of 27 former EG sites of which the furthest north is located in Don, Aberdeen, and the furthest south is Four Cross, Penryn in Cornwall. The majority of the sites are in the north west, but there are also clusters around Shrewsbury and Milton Keynes, plus a three-site cluster in Swindon. The acquisition includes three new-to-industry sites built in 2020; plus other NTI sites built between 2016-18. The process of physically taking them over started on November 8, adding around six to seven sites a week.
The biggest store are 2.500-3,000sq ft while the current biggest PGG site is 1,500sq ft.
"The fundamentals are the same, whatever the size of store - cleanliness, tidiness, customer service. Then we will develop in stages," says Hemant. "We've been working with Blakemore - 25 of the sites are Spar. We're going through a massive journey and I think it would be wrong of us not to keep our Park & Shop branding above the sites."
In terms of fuel, all the existing Shell, BP and Texaco sites will remain. The 13 Esso sites will change, with four going to Shell and the rest to Texaco. The expectation is that both fuel and shop sales will double, with the introduction of alcohol sales - EG Group choose not to sell it - presenting a big opportunity.
"Now is the right time for us to do this," concludes Hemant, who has learnt from and greatly respects the achievements and work ethic of his father and uncle.
"It was the right time to expand with everyone where they are - with my dad and my uncle still very active in the business; and with Manoj and I having that youth and experience. It all kind of fell perfectly for us. It's a fantastic opportunity. It may sound corny but it seemed like our destiny."
Quick info
1975: Mandan and Sneh Tandon set up Park Garage Group on a Shell site in Canning Town, East London
1984: Sunil and Balraj Tandon take control of the business
1996: First freehold site purchased
1998: Headoffice and training centre opened in Croydon
July 1999: PGG becomes a plc
October 2003: Park & Shop brand created
October 2016: Completes £1m investment in car valeting equipment
February 2018: Hemant Tandon becomes operations director
March 2020: Manoj Tandon joins as finance and IT director
November 2021: PGG completes purchase of 27 EG Group sites