The healthy snacking market continues to grow with new launches coming thick and fast.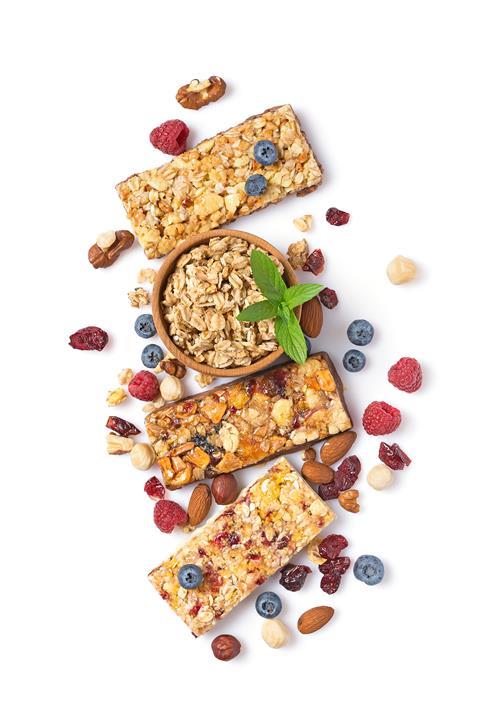 People who eat 'healthy' snacks have different views on what is important depending on their age group, according to a recent survey of 2,000 people by Glanbia Nutritionals. Low in calories was most important to Gen Z (16–24-year-olds). Protein was a priority for millennials (25–34-year-olds), while the over 55s look for low/no sugar snacks.
The survey also revealed that 49% of those who snack are more likely to choose a healthy product at home than outside of home (10%) and in the workplace (10%). And 25% of hybrid workers (working both at home and in the office) said they would eat more snacks as meal replacements, while 31% agreed they'd choose more on-the-go snacks as a result of their working routine.
All of this is good news for forecourt stores which have always provided snacks but are now increasingly providing a wide range of healthier options that include low calorie, low/no sugar and high protein options. Focusing on healthier snacks is important too when you consider the HFSS (high fat, salt and sugar foods) regulations that restrict where in your store you can sell these items, which come into force in October 2022.
Calbee recently launched a new range of plant-based products under the Harvest Snaps brand. The vegetable and pulse-based snacks provide a healthy alternative to traditional fried crisps and snacks, being baked not fried, with under 100 calories per portion and they also fall below the proposed government HFSS restrictions. There are two flavours: Sour Cream & Chive Lentil Rings and Thai Sweet Chilli Lentil Puffs.
Jon Wood, commercial director of Calbee UK, says: "Harvest Snaps meets consumer demand with a variety of pack formats including portion-controlled six packs, single handy packs and sharing bags. The entire range is vegan and gluten-free with all green and amber GDAs. We believe that Harvest Snaps not only provides the category with its first plant-based snacking range, but is the first to provide retailers with a solution to potential HFSS issues. The handy single -pack format is the ideal choice for health-conscious consumers seeking an alternative to traditional crisp options in their meal deals."
Plant-based food and drink business Nurture Brands recently relaunched its Emily Veg Thins range, which like Harvest Snaps do not fall foul of HFSS guidelines. The better-for-you crisps are made with over 80% corn, pea, black bean and red lentils, are under 100 kcal per serving, high in fibre and a source of protein.
Adam Draper, managing director of Nurture Brands, says the relaunch was in response to the imminent government to ban HFSS promotions next year. "Many of our customers are increasingly concerned about the impact of lost sales resulting from HFSS guidelines on their snacking fixtures, but with Emily Veg Thins, we have the perfect solution."
The relaunched range has a new Vegan Sour Cream & Onion variant while the existing Barbecue variant has a 'bolder' flavour.
"Consumers told us they love the idea of healthier crisps but were disappointed by the taste of products currently in the market," says Ben Arbib, founder of Nurture Brands. "We set out on a mission to make the healthiest crisp in the market that does not compromise on taste or sustainability."
The range is alvailable to order from wholesalers including Cotswold Fayre and Suma.
Another healthy snack to look out for is vegetable-based Rootles. Baked with over 35% root veg and featuring carrot along with a dash of sweet potato, Rootles are high in fibre and contain less sugar and fat than many chocolate snacks. The Rootles brand has been developed by Helen Yates, who co-runs Luke Evans Bakery in Derbyshire with her husband David. She says Rootles is a new concept in the snack bar sector and is believed to be the first, and only, indulgent treat that is vegetable based to hit the impulse snacking category.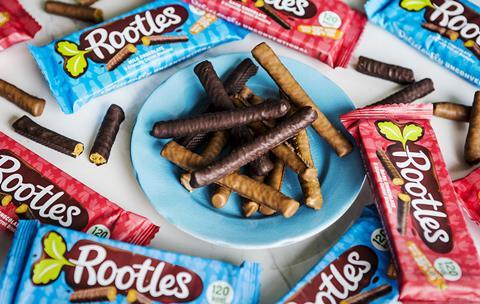 Currently available in two flavours, dark chocolate and milk chocolate, each pack of Rootles contains three crunchy carrot biscuit fingers smothered in chocolate. They contain 120 calories per pack, which is less than many other snack bars because the biscuits are naturally sweetened with root veggies.
Yates was inspired to develop the product through her work mentoring and supporting international business students at the University of Nottingham. The concept of using veg in biscuits was developed as a market research project.
Later, she received funded support from Mission Ventures and the Good Food Fund, which identified Rootles as being a winning healthy snack to help fight obesity.
"The Covid pandemic has led to a greater focus on health, and Rootles are the perfect product for guilt-free snacking, as they are high fibre and contain just 120 calories per pack – fewer than many other snack bars. Consumers are looking for healthier snacks, particularly in the impulse snacking sector, but they don't expect to compromise on taste or texture and still want to treat themselves. Veg has been added to cakes for a long time but we've taken the concept a stage further and developed biscuit bars using root vegetables. Rootles taste like a traditional chocolate biscuit but are naturally sweetened with carrot and sweet potato. They are deliciously unconventional and really have to be tasted to be believed!"
Moving from vegetables to fruit, and there is the Kooky's range of superfruit snacks which includes freeze-dried, light and crispy jackfruit, mango and mangosteen, and gently dried, soft and chewy banana and dragon fruit.
Sustainably sourced in Thailand and dried naturally with no added sugar, the snacks are 100% fruit and 100% vegan. Deena Tan, founder of Kooky, says that as well as being a convenient way for health-conscious consumers to reach their five-a-day goals, the snacks are also filled with vitamins, minerals and antioxidants.
New products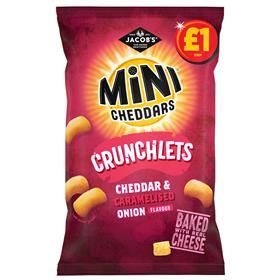 Gingerbread Carb Killa is back for the festive season. It comprises gingerbread nougat, layered with caramel and dark chocolate chips, all covered in milk chocolate, with white chocolate on top. Despite this, it contains just 1.7g of sugar and 20g of protein.
New Jacob's Mini Cheddars Crunchlets have been baked with real cheese to give consumers a lighter snack. Available in Rich & Tangy Cheddar and Cheddar & Caramelised Onion, Crunchlets come in at just 76 calories per serving.
Nutrition brand Warrior Raw has a new Cookies & Cream protein flapjack. It contains 20g of milk protein and just 3.7g of sugar.
Boursin has unveiled its first ever plant-based alternative to cheese – Boursin Plant-Based Garlic & Herbs. It is being launched in Sainsbury's but will be available to other retailers from February.
KP, as part of its partnership with health charity Movember, has been using its brand awareness to get more people talking about testicular cancer. The campaign's ambassador is Queen of Drag,The Vivienne.