Jac Roper looks into a terrible tale about a company hounding a couple for a debt which they didn't owe, plus the power of social media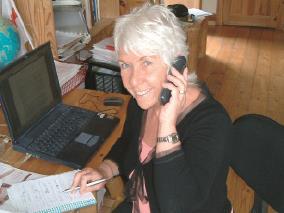 A company this size should be more organised
It started with the measly sum of six quid. Chris and Marion Clarke traded as Marion's Shop & Filling Station, on Rousay, the largest island in the Orkney Islands of Scotland.
It is the only shop and filling station on the island – in fact it is the only shop within three islands.
When retirement time came along after 30 years of running the business, Marion settled all the accounts. The couple used to lease their card readers from First Data Global Leasing which duly sent a note saying that the aforementioned £6 was owed. They refuted this and had evidence to prove it but still the company kept sending 'action required' notices. This, by the way, was the only supplier to have any complaints about the way that the Clarkes had cleared the way for the new owner. So meticulous is Marion.
Over about a year the bill had risen to £315.18 for non-return of card reading machine and late payment. The company threatened the couple with a county court judgement. Marion was due to have open heart surgery. "The last thing we needed was someone taking us to the Sheriff's Court. People around here are very careful about that," said Chris. (In Scotland fines are a priority debt because the Sheriff Court has the power to send you to prison for non-payment.)
His wife became so worried about it, she had a heart attack. They spoke to the debt collector (couldn't get through to First Data itself) and even they agreed that there wasn't a correct alignment of dates.
Then Marion got a phone call saying the claim was no longer being pursued – no apology, no explanation. "This is no way to treat anybody in the retail business."
Eventually the company admitted they were at fault – they had changed their business address, and in moving they had messed up their paperwork.
For Chris it had been a terrible worry because he nearly lost his wife.
I tried to contact First Data on their behalf and what a runaround that proved to be.
Through a Basildon number I wound up talking to a (Lloyds) Cardnet bod and she was able to buzz me through to someone who worked for First Data. Except she wasn't interested. I explained the right to reply but the First Data person said, sorry, she had nowhere to refer me.
So not only did I not get an apology for the Clarkes but I can quite see why First Data got its wires so crossed. Yet the company bills itself as 'Your one-stop global equipment leasing source, backed by the strength and scale of First Data Corporation, a world leader in providing strategic payment processing solutions to businesses of all types and sizes'.
Car wash? It was more like a wipeout
As we all know, social media can be a force for good but it can also be toxic and very damaging. I happened to be scrolling through a Nextdoor site when I came across an agitated discussion on car washes. This particular thread concerned a car wash at a Tesco near me. It opened with: "They were washing this person's car and instead of using a cloth to clean the inside of the car, the guy decided to pressure wash the inside plastics. Got water all inside the boot and [on] the person's clothes and baby seat. It's such careless behaviour. Beware!"
The first suggestion was that they should have complained to Tesco and to the owner of the car wash company.
Someone else said: "Me too yesterday. Got back to car to see all car doors open and the power wash being used around the inside of doors. Water sprayed into car. Quite expensive and poor quality. Won't be going back!"
Then they got on to prices. "Most basic car wash is £13. The prices are absolute rip-off. I used to use their services but not any more."
And: "Average service for £30 and you have to ask them to wipe/clean properly. Not a good service."
On its website the company displays its menu of washes: bronze, silver, gold and platinum. I shudder to think what my neighbours would have to say about that.
Not a single person disagreed with any of the comments which is, in itself quite unusual on Nextdoor where discussions can start out with references to scumbags stealing cars and descend somehow to incredibly rascist rants.
It turned out that, in terms of researching this company I needed to go no further than my own household.
When I asked my husband if he had used them he replied: "Once. They were rubbish. There was no queue and they were very quick."
So keep an eye on sites like Nextdoor and if your business crops up on them, make sure you take steps to address the first comments in a helpful fashion.
You can email your queries, news and views to Jac@roper-biz.co.uk or call 0208 8502 9775