Tebay Services is delighted to announce four-part Channel 4 series that will broadcast from 10 July at 8pm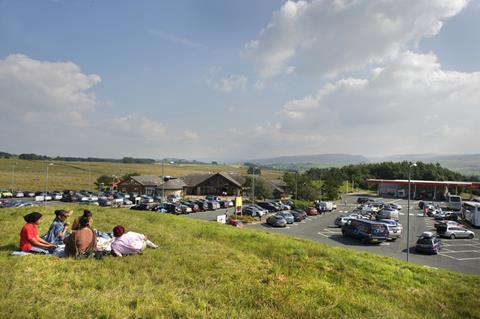 Tebay Services in Cumbria, part of Westmorland Family, is to feature in 'A Lake District Farmshop' - a four-part Channel 4 series celebrating what is described as Britain's most scenic motorway services and a uniquely different stopping point on the M6.
The series follows key members of staff and the Cumbrian farmers and producers who rally to maintain the family-owned business that has been a cherished pitstop for holidaymakers, truckers and road trippers for nearly 50 years.
Set up in 1972 by local farmers John and Barbara Dunning, Tebay Services was the first and remains part of the only family-run motorway services business in the UK. Their Gloucester Services site on the M5 is a former Forecourt Trader of the Year winner.
With 4.5 million visitors each year, Tebay Services is a lifeline – now more than ever – to the local community that works and trades there and a delight to the visitors who stop to enjoy its Farmshop & Kitchen.
Showcasing the stunning scenery of the Lake District and covering the stories of local producers and farmers that depend on the M6 motorway and Tebay Services for their livelihoods, Channel 4 says the series provides an intimate insight into the rural community of Cumbria and its relationship to the wider world via the M6 motorway.
Sarah Dunning, chair of the Westmorland Family, which owns and operates Tebay Services, explains: "When the M6 was built through my parents' farm, they viewed it as an opportunity to diversify and welcome the world to our farm. My sister and I grew up with the business; as we grew, it grew. Tebay now is the stable for hundreds of diversified enterprises, from raw milk cheese making to scented candles.
"Quality local food was at the forefront of my parents' vision when we opened nearly 50 years ago, but it is the people behind the produce and our enduring relationships with our makers that gives our business heart.
"The world is at a pivotal moment at present, and it has given us a chance to appreciate and value what is on our doorsteps. Local produce, local landscapes and communities have been at the very heart of Tebay Services, and it's a great pleasure to share these stories with a wider audience."
The four-part programme, which starts on 10 July at 8pm and runs for four weeks, follows Tebay's team of buyers, farmers, butchers, builders, designers, cleaners and suppliers and shares some of the connections and special relationships between people living and working in the Lake District.