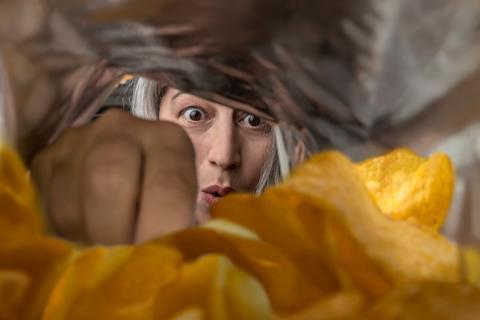 Despite the massive size of the crisps, snacks and nuts (CSN) category – worth £3.8bn and counting, according to Nielsen data – there is still room for growth.
Matt Collins, trading director at KP Snacks, explains: "CSN is a fast-growing, priority category with huge scale. Worth £3.8bn and growing at +8.6% year-on-year, CSN shoppers are spending an extra £100 in the category, +14% year-on-year (Kantar). And with 67% more people choosing convenience for their 'main shop' and one in five baskets containing a bagged snack (Lumina), CSN represents an important opportunity for retailers to grow sales and footfall. We're seeing dynamic change across the category and retailers can bank on bagged snacks to drive sales and footfall by stocking the right range and formats."
And, of course, that range and those formats include KP brands. Collins says the company's snacks are consumed by over 20m households and its portfolio has delivered 44% of the category's growth in the last five years (Nielsen).
"Customers gravitate towards well-known and trusted brands with 42% of CSN sales going through the top five brands, and many of our KP Snacks' brands are excelling," he says.
He adds that price-marked packs (PMPs) have also seen significant growth in the last few years and says this format will stay increasingly relevant, especially as inflation bites. "Our portfolio of large PMPs is currently worth £83.5m and is growing at +26.8% (Nielsen). We are continuously expanding our PMP portfolio to add value to retailers with both variety and promotion."
Indeed, KP has announced the expansion of its PMP range with the launch of two new SKUs: KP Mini Chips Salt & Vinegar £1.25 PMP (60g) and KP Mini Chips Beef £1.25 PMP (60g), available next month.
The launch has been announced alongside a range and pricing restructure for the KP PMP portfolio. The smaller format PMP range features Space Raiders in 40p PMPs, alongside classic heritage favourites including Discos, Skips and Wheat Crunchies, available from 50p, and Hula Hoops core range and Pom Bear in 65p PMPs. Meanwhile, Hula Hoops Big Hoops BBQ Beef, previously priced at £1, is now priced at £1.25 for a 70g pack.
Says Collins: "We are committed to continuing to expand our extensive PMP portfolio with the right brands, flavours and great value price points to bolster sales for our trade partners. With the evolution to our PMP portfolio, we can continue to offer compelling and appropriate shared margins on our PMPs, while supporting new key PMP price points across our range including £1.25."
.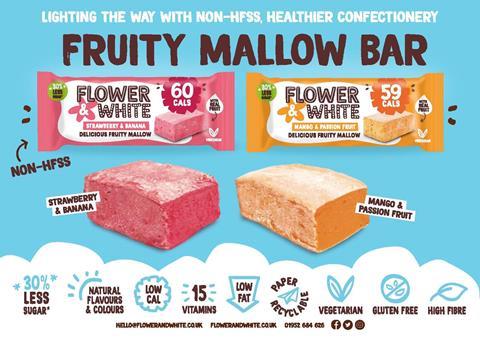 Healthy impact
The impact of health and wellness cannot be understated in the snack market, says Ben Mckechnie, managing director, at healthy snacks wholesaler Epicurium. "The trend for protein foods and good-gut products continues to gather speed. Sales of healthier alternatives, such as lentil chips and plantain options have seen a 30% increase in the months leading up to December. In addition, healthier protein SKUS have shown a significant increase, up by 37% on average," he says.
And Nielsen data says the healthy snacking segment is up in value by more than 20% year- on-year.
New lines that have recently joined the Epicurium line up include Flower & White Mallow Bars and Propercrisps.
The wholesaler has added two new flavours to its Flower & White listing: Mango & Passion Fruit and Strawberry & Banana (both 15x35g). These are described as light yet indulgent treats with lower sugar and less fat than typical confectionery lines. They contain just 60 calories per 35g bar and are high in fibre.
Epicurium has expanded its Proper Snacks range with the addition of lightly fried and ridged Properchips. These are marketed as a totally vegan snack with less grease or guilt than other crisps. They are available in Thai Chilli, Cheese & Onion and Flame Grilled Steak flavours and contain 30% less fat than the leading ridged potato crisps, as well as having the added benefit of being a source of fibre, thanks to the addition of pea fibre and protein. The crisps are also vegan, gluten-free and contain no palm oil.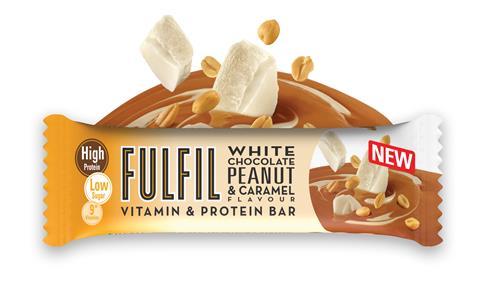 Fulfil leads healthier growth
Protein bar brand Fulfil says taste is paramount to the consumer when choosing healthier snacks and that is why it aims to deliver great taste across all of its products. Its commitment to taste is working, with IRI data showing Fulfil is the number one contributor to growth in protein bars in the forecourt and travel channel, with sales growing +119% year-on-year.
For 2023, there are two new additions to the 55g bar range: White Chocolate Peanut and Dark Salted Caramel. Each bar contains 20g of protein, is low in sugar and also contains nine vitamins that contribute to 30% of the recommended daily allowances.
Fulfil says these new 55g additions are designed to meet the bigger 'eat and fuel' mission and complement its 40g range, which is focused on the 'impulse on-the-go' mission.
Fulfil bars are already widely available across the forecourt channel with listings in BP, Shell, Euro Garages, MFG, Moto and Welcome Break sites.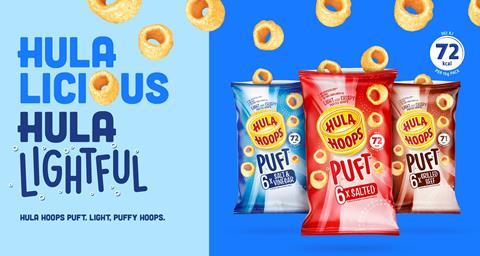 Taste test
The taste of healthier snacks has improved dramatically in recent years and manufacturers are keen to get this message across. KP Snacks has just announced a £1m investment in its "Hula Licious, Hula Lightful" campaign, to help drive awareness of Hula Hoops' light, low-calorie and non-HFSS offering, Hula Hoops Puft.
The "Hula Licious, Hula Lightful" strapline focuses on Hula Hoops Puft as a great option for a healthier daytime snack, which comes in at just 72 calories per pack.
Last year, the entire Hula Hoops Puft range was relaunched with a new look and a reformulation to ensure the product was non-HFSS.
Worth £10m, Hula Hoops Puft products are consumed by over two million shoppers each year (Nielsen) and continue to be a top five 'Better for You' multipack brand.
The advertising, which starts from the beginning of February, will run for six months across multiple channels including radio, video on demand and out of home. Its aim is to continue driving brand penetration growth (+23% in the last 24 weeks - Nielsen), by keeping the product front of mind for shoppers and boost sales for retailers.
John McDougall, brand manager at KP Snacks, says: "Daytime snacking is on the rise and shoppers will be increasingly seeking out more permissible options, with the beginning of the year representing a key period for healthier snacking, and Hula Hoops Puft is perfectly positioned as a tasty and low-calorie snack."
Adding excitement
Nothing ramps up excitement in a market like a new product or brand, and leading Irish brand, Keogh's Crisps, has signed with UK distributor Bobby's Foods to supply up to 20,000 stores nationwide.
The distribution deal will see the award-winning, premium crisps arrive on shelves in Co-op, Costcutter and Nisa convenience stores.
The first three products available in the UK will be Atlantic Sea Salt & Irish Cider Vinegar, Mature Irish Cheese & Onion and Irish Atlantic Sea Salt crisps.
Potatoes are grown and hand-cooked in small batches from 'crop to crisp' on the family farm in North County Dublin and are then complemented by local flavours. For example, salt is harvested from the Atlantic Ocean on the West coast of Ireland and the vinegars are sourced from David Llewellyn's orchard local to the Keogh's family farm.
A relatively new player in the massive snacks market, Keogh's Crisps has already won a collection of awards including 22 Great Taste Awards and has some very impressive listings. They are served on Ryanair's 3,000-plus daily flights across Europe as well as on Singapore Airlines and in Emirates first-class cabins.
CEO Tom Keogh says: "I saw huge potential to produce an authentic Irish potato product that would travel and hence Keogh's Crisps was born. Internationally the Irish potato, Ireland's strong agricultural roots and the green fertile land all lend to the quality of the end product."
Another sure-fire way of adding excitement on-shelf is an on-pack promotion and this spring, Pringles will be giving gaming fans a chance to win the 'ultimate PC gaming set up', worth over £1,000 and a host of others prizes as part of its new on-pack activity.
The promotion comes as gaming has increased in popularity, with one out of every two people in Europe considering themselves gamers and over 31 billion hours of live stream being viewed in 2021 (NewZoo Games Report).
The on-pack competition will be available to all trade and convenience retailers, including Bestway and Nisa from March across 165g standard can and PMPs on Pringles' core flavours. It will be supported with pos material.
Hannah Fearnley, Kellogg's UKI senior sales manager, says: "This is our fifth year running a Pringles gaming activation, so we are really excited to drive engagement and to give our shoppers the chance to win some great prizes. With the ever-increasing popularity of gaming, we're keen to capture that audience's attention as the most talked snack among those shoppe