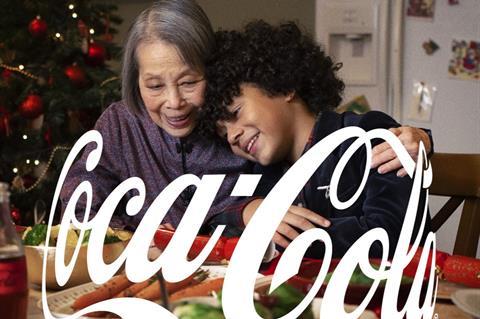 Christmas is, of course, supposed to be the time of goodwill to all men (and women!). One brand that is spreading the 'love' this Christmas is global giant Coca-Cola.
It has a new campaign called Real Magic at Christmas.
The commercial for the campaign features a boy moving into a new apartment with his mum. However, he notices there's no fireplace and the realisation hits him… no chimney means no Father Christmas! He decides to make one himself. He starts building a chimney of boxes and neighbours quickly band together to help finish it in time for December 24. Big aaaaaah… then the Coca-Cola credits roll.
According to Coca-Cola, it has "a simple and uplifting message of unity, inclusion and positivity at its heart to remind us that all we need for a magical Christmas is shared moments with community and the ones we love".
I am more interested by other activity that ties into the campaign, including its partnership with the FareShare charity. Apparently, Coca-Cola has a long-term relationship with FareShare – a charity that was set up to fight hunger and food waste by redistributing surplus food to frontline charities. I am a massive consumer of Diet Coke, but this partnership has somehow passed me by. This latest activity takes the form of an on-pack 'Win a meal, give a meal' promotion across Coca-Cola Original Taste and Coca-Cola Zero Sugar 'future consumption' aka take-home packs, which gives consumers the chance to win food-related vouchers, while at the same time donating meals.
In addition, there is the Hero The Driver campaign that celebrates designated drivers as the 'unsung heroes' of seasonal celebrations by offering a free second drink when they purchase a Coca-Cola Original Taste, Coca-Cola Zero Sugar or Diet Coke in up to 9,500 participating licensed venues – and in a number of managed operators including Greene King and Whitbread.
It all sounds great and full of goodwill, and obviously shows Coca-Cola in a very positive light. I was intrigued by the value of this so-called 'cause marketing' and it appears that it is hard to quantify. I did come across an old survey by Nielsen, which found that two-thirds of people it surveyed would think positively about a brand engaged in cause marketing, while half said it would 'likely' influence their purchase decision.
But for me and for many others, I imagine, our purchase decision has already been made… and I'm off for another Diet Coke!