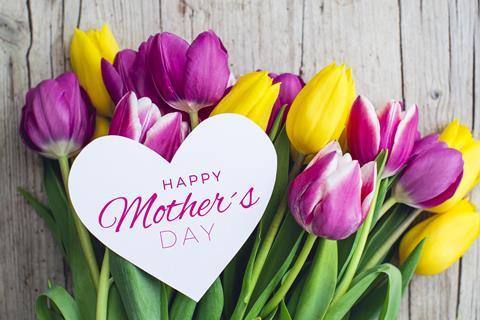 It's Mother's Day on Sunday March 27 and what makes this year's event even more special is the fact that it's the first one since 2019 that we'll be able to celebrate properly.
The last two Mothering Sundays were affected by lockdowns and restrictions on meeting up, so you can expect people to really make the most of this year's.
Cards are the starting point for Mother's Day and while the younger generation often go for a text or a What's App message instead of a card, older people still appreciate a piece of coloured cardboard. The Greeting Card Association offers downloadable pdfs of pos material that can be used in-store, on websites, social media and on emails. The message is simple: 'Send a card, deliver a smile'.
For occasions such as Mother's Day, cards and gifts need to flagged up so shoppers can see them easily – a small display near the entrance or on the way to the till is ideal. Not everyone will be aware when it's Mother's Day, as the date changes every year just like Easter, so it's important to remind people.
Flowers are the other 'biggie' for Mother's Day and thankfully the forecourt flower offering has improved a lot in recent years. Roses are apparently the UK's favourite flower but for Mother's Day traditional spring flowers such as tulips and daffodils are popular as they tend to be very affordable.
Other gifts that can be popular are chocolates and booze - namely prosecco for those who can't afford Champagne and spirits such as gin. According to Diageo, one in four bottles of spirits is bought as a gift and as they are gifts, most buyers will be looking for the bigger brand names that the recipient will instantly recognise.
Pulling all of these items together can be difficult but the use of pos and other means of communication can really help. If your forecourt store is in a community location with lots of regulars, how about getting a member of staff with decent handwriting to make up some cards with messages? Things like 'this is ideal for Mother's Day' or go further and personalise the messaging using members of staff, such as 'Lucy bought this for her mum' – obviously making sure that Lucy's mum doesn't get to see it so it spoils the surprise!
Another thing to remember is that younger children might want to make their mum breakfast in bed so it's wise to be stocked up on items for the full English as well as orange juice and croissants as you can imagine dads running out to a shop the night before or early in the morning of Mother's Day itself to stock up.
Remember, it's mum's day but it's quite far reaching as it could also mean step mum and grandma too. You can even get 'best dog mum' Mother's Day cards but that might be taking it just a bit too far.